Girls' sand volleyball sets up for success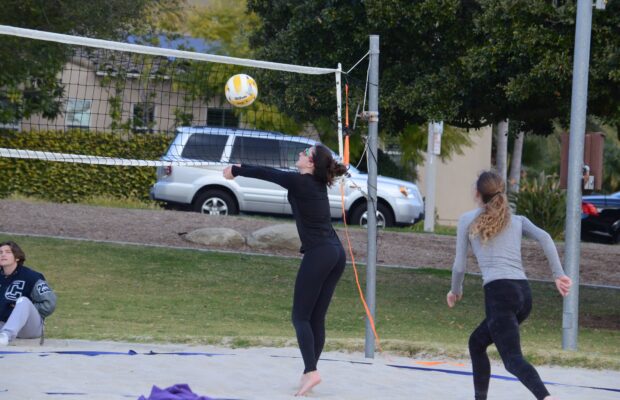 As the girls' indoor volleyball season ends in late October, many players return to the court for sand volleyball, which starts up in the spring. Sand volleyball was just made a CIF sport, and many of the players are hopeful at making playoffs. The team practices twice a week with tournaments on the weekend. With a new head coach and a sense of comradery already fostered in the indoor season, the season is off to a blazing start.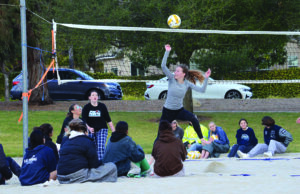 Jump- The tight-knit team sits on the sand during a break. Kalyna Lewus, senior, has been playing on the varsity sand volleyball team since she was a freshman, and reflects on her experiences as an underclassman. "I look at the freshmen and I remember when I was in their position," Lewus said. "Your perspective changes as the years progress, so it's cool being one of the seniors and being able to kind of like, lead and guide the freshmen.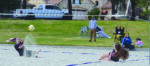 Slide- Kylie Reimer (right), freshman, and Kimiko Carmer (left), freshman, partner up for a tournament against Adolfo Camarillo High School. "[I'm most looking forward to] getting better at the sport and getting to know my teammates more," Reimer said.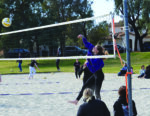 Wham- Emma Schuetz, senior, spikes the ball over the net during a tournament. "My favorite part about sand volleyball is the dynamic of the sport. It is a very fun environment and, for me personally, being on the team is beneficial for indoor," Schuetz said.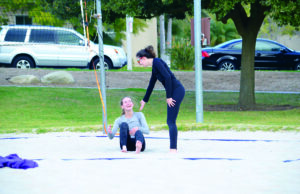 Support- Natalie Lachberg, junior, extends a helping hand to Emma Schuetz, senior, after a particularly exciting play. The girls value sportsmanship and support, whether it be during practice or a game. George Hees, the new head coach, is also the JV coach for the indoor program. "This is my third year at Newbury Park, so I've gotten to know some of these girls, especially the seniors. So I enjoy having another opportunity to work with them to teach them about volleyball and to continue to see them grow," Hees said.