Healthcare workers power through pandemic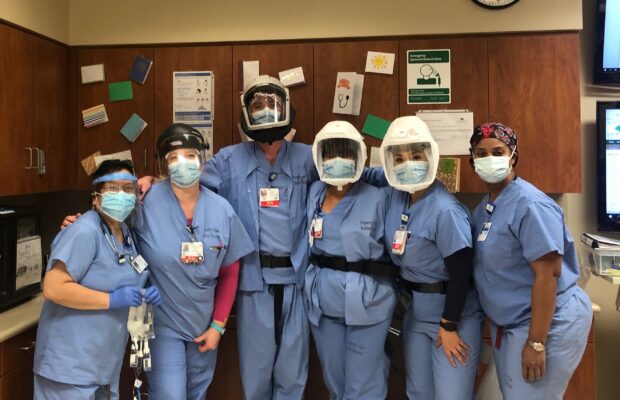 Throughout the COVID-19 pandemic, healthcare workers have been dubbed "frontline heroes," as their hard work has saved many. They have faced over-capacity hospitals, extreme safety protocols, exhausting hours and fear of infection. These extremities have even caused some nursing unions to strike for better working conditions, such as Los Robles Regional Medical Center in Thousand Oaks. The occupancy of ERs has reached its all time high, and some hospitals are even putting beds in their parking lots. This chaos may be coming to a near end as the Pfizer and Moderna vaccines roll out, but healthcare workers are currently battling with the worst conditions yet in the pandemic.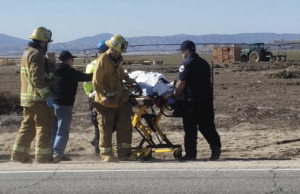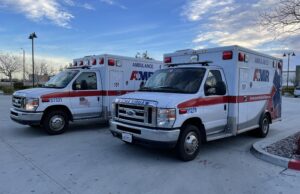 ER Capacity
With COVID-19 cases rising across the country, many hospitals have hit capacity in their emergency rooms, including our local hospitals. This has become a major crisis as hospital beds have been moved to parking garages and supplies have been running low. In this high-stress situation, nurses have developed new protocols to keep as many beds as possible open for those who urgently need them.
Joanna Xie has been working as a pathologist for eight and a half years at St. John's Regional Medical Center. Working in clinical and psychopathology, Xie's team is in charge of histological diagnosis and supporting the clinical lab, as well as doing a lot of PCR testing in house during COVID-19. With case numbers spiking, the hospital is busy as ever. "The nursing staff I know are scared of catching [COVID] and bringing it home. You know, the nation is running low on beds, oxygen and things like that so people are edge," Xie said. "The death rate has continued to climb up and I think people are getting disheartened."
Kelley Lund, a nurse at Los Robles, has witnessed the struggles of the overflow at the hospital. "We're problem solving as we go. We are opening other units to take on more COVID patients [and] we have had our progressive care unit expand to take over patients and we've had our orthopaedic floor expanded takeover patients," Lund said.
James Burgoyne, an EMT from Camarillo, and Breanna Pennala, an EMT from Santa Clarita, both work for the American Medical Response (AMR) in Antelope Valley as partners. During work, they both have noticed the shortcomings of supplies given to the EMTs and the hospitals. "We don't have the resources to handle the call volume that we have now, and the hospitals don't have the resources to handle the influx of patients that are coming in," Burgoyne said.
Not only have there been a shortcoming of supplies, there has also been a lack of oxygen. "There's literally oxygen shortages [and] there's even new protocols rationing who gets oxygen and who doesn't," Pennala said. "It's to the point where you don't have to be there, you don't really want to be there."
In order to help balance the shortage of supplies, new protocols were put in place. "Patients that call 911 for something not so serious, might [be treated or referred], meaning we won't necessarily take him to the hospital. We might be able to treat them on scene, or we might be able to refer them to their primary care doctor," Burgoyne said.
Brittany Apodaca, another EMT from AMR, has witnessed how hospitals have had to make adjustments to accommodate the overflow of patients at the ER. "They do have these large garages…. canopies, almost like extensions of the ER, and they have them outside because the main ER is just oversaturated with patients [so] there's no room to put them," Apodaca said.
"Everybody's really tired and exhausted [and] the call volume is so high, and we're so busy. It just takes its toll on everybody. We're very worn out [and] we're rundown. People continue to not social distance, continue to not wear their masks, [and] continue gathering in large groups, and it's just more and more people getting COVID," Burgoyne said.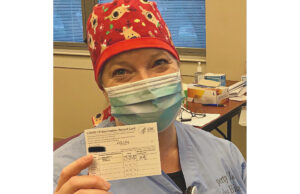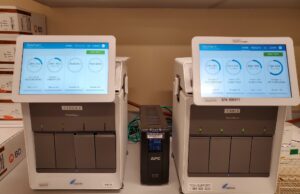 Vaccination
The Pfizer and Moderna vaccine have started to be distributed and administered, an event anticipated across the nation. California prioritized healthcare workers as the first to receive the vaccine, as they have the highest risk for exposure to COVID-19. Nurses across Southern California have already received their first dose and will soon receive a second dose.
Smriti Campeau, a laboratory and point of care worker at Dignity Health at St. John's Regional Medical Center in Oxnard, has been working at her current hospital for almost two years. Campeau is one healthcare worker that has received the first dose of the COVID-19 vaccine. "Healthcare workers and people who are in nursing homes are getting the vaccine. As far as California is concerned, I think Governor Newsom is looking at distributing this vaccine according to the age group and people over 75 will get to go get it," Campeau said.
The vaccine comes in two doses, both of which are necessary to ensure the best results. "This is very challenging in the sense that there are two doses, and it has to be three weeks apart. A person gets it say today, and then they did not take it in three weeks. They gotta start all over again," Campeau said.
Lisa Martinez, a histology technician at St. John's, received both of her doses in the past couple of weeks. "I got the Pfizer vaccine, which has to be kept very cold in the pharmacy in a freezer… and then I had to wait for 15 minutes to make sure that I didn't have an adverse reaction," Martinez said. "The only thing that I felt from [the first vaccine] was a sore arm, just kind of bruised. On my second vaccine, I got a sore arm [and] a bruised feeling. The next day, I felt almost as if I was very dehydrated. I felt like I was having heart palpitations."
Other healthcare workers, such as Diana Cabrera, a surgical tech at Cedars Sinai, were weary of getting the vaccine because it is so new. "I was kind of nervous to get it. Just because it's so new, but benefits outweighed the risks…so that's why I took it," Cabrera said.
Many people don't trust the reliability of the vaccine; however, nurses like Tom Vasko at Los Robles Hospital advocate for the safety and ethicality of it. "Despite the development appearing short, mRNA technology has been in development since the 90's and its use for vaccines has been being researched for nearly two decades. The researchers found a way to provide a blueprint of sorts using mRNA that could teach our immune system how to defend against the virus which causes COVID-19," Vasko said.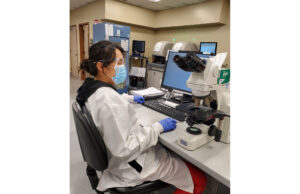 Urgent Care
During a pandemic, medical staff also have to support others who need medical care not related to COVID-19. They work under immense pressure due to the mix of COVID-19 and non-COVID-19 infected patients that filter through their urgent cares. The stress is high for these workers but their hard work is helping thousands of people stay safe.
Erin Zucker, the lead nurse, is a part of the clinical staff at Exer Urgent Care in Westlake Village. As the number of cases started to rise, so did the number of patients at Exer. "We went from saying maybe like 50, 60 patients a day to 300. If they're not here for COVID, we try to prioritize them. But obviously, it's hard to get through all those people," Zucker said.
While treating other patients, the staff members need to follow specific protocols in order to reduce transmission of COVID-19 as much as possible. "There's a lot of restrictions because they could be sick with other things. We have to rule out COVID first, so we have to keep them in the car if they're sick. Once we make sure that whatever is going on with them is non-COVID related, then we can do our job," Zucker said.
Sandra Rodriguez, a medical assistant X-Ray Tech, checks patients' vitals as well as x-raying patients if needed. Most patients that come to Exer are often in need of assistance due to some COVID-19 related problem. "There are some days, however, that we see a lot of people who need x-rays. Because of the pandemic, they're doing a lot of outdoor activities. So that has gone a little bit higher in numbers," Rodriguez said.
At Exer Urgent Care, Brianna Krboyan and Drew Ziegler are both the front-desk workers who greet patients that come in."We definitely have to step into some bigger issues…because we're the first ones to see the patient. So whatever we see, we have to report to the back, and it's mostly COVID," Krboyan said. "One time, we could tell [a patient] wasn't looking too good. We went and told our clinical team and we ended up having to call 911 [because] he was having a heart attack. So we definitely had to be more attentive [because they could be] here for one thing, but it ends up being a whole different reason for that visit."
A major problem with having so many patients coming to the urgent care is the backlash the staff gets. "The biggest struggle has been the amount of patience that we had, and having to deal with angry patients…Each patient takes about two to four minutes to actually check in. So patients don't really understand that, and they don't like waiting. There's so many people and we're obviously doing our best to get everybody in that we can," Ziegler said.
Around the time of the holidays, the number of cases spiked, as well as the number of patients going to Exer. "We had people lining up here, probably 50 to 60 people line up. And we were holding that line almost all day during the holidays," Ziegler said.
The staff members at the urgent care not only need to be prepared to face whatever is thrown at them, but they also need to be ready to adapt and shift as things change overtime. "Everything just changes so quick, just depending on how serious it gets. When the numbers were rising for COVID…we couldn't let anyone in. And then we have to change how we text them, and we have to change how we screen them, so the whole process has been hard," Krboyan said.
Healthcare workers deserve high praise as they have gone through hell and back during this pandemic. As hope for an end to COVID-19 rises, these workers are working hard to get us back to a normal life. "Whether or not you believe in the virus, whether you mask, distance, will or will not get the vaccine, whether you voted for Biden, Trump or Kanye I will treat you the same as a patient and human being if/when you come into the hospital," Vasko said.