Hockey players bar down on the ice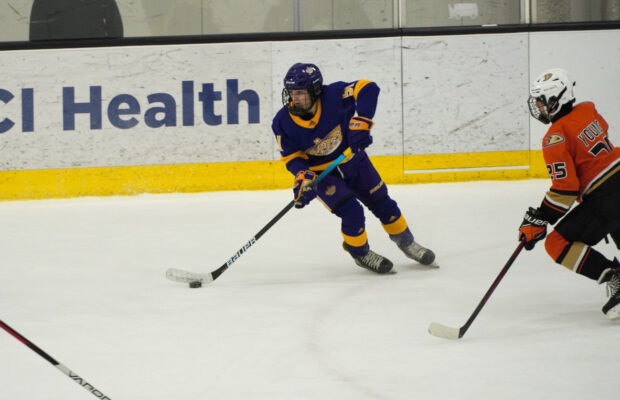 The puck flies from one player to another as they weave in and out of their competitors, and a crack echoes through the arena as the stick hits the puck, sailing straight past the goalie into the net. Although Newbury Park is not accustomed to ice, many NPHS athletes are. From local rinks in Simi Valley to Pasadena, students dedicate their time to improving and growing as hockey players.
Loving hockey is an understatement for Joe Lawrence, junior, who eats, sleeps and breathes the sport. "A lot of [hockey] is just bringing energy to it and sticking to the systems. A lot of the teams will have different systems and different game plans that the coaches will bring over," Lawrence said. "The players will utilize the skills that are most likely to help that [specific] game plan. We'll usually stick to the game plan and work as hard as possible to come out on top at the end."
In addition to bringing his A-game to every competition, Cameron Carr, junior, takes time to observe and understand his opponents in order to assure the maximum success possible. "You go into each game with a different mindset based on whom you're playing. Some games are going to be a lot more physical, some are going to have to be a lot more organized for you to make plays…We watch a lot of film, we watch the team we're playing to see things they do, any little quirks they have that we can take advantage of," Carr said.
Cody Davis, sophomore, knows that athletes must constantly work hard to improve their relationships with one another so that their communication keeps them prepared for anything coming their way. "Playing hockey is great for building leadership skills. If you're quiet and on the ice, it's never going to work. You have to be talking at all times," Davis said. "Our entire team's like a family and having those bonds help with other problems outside of sports. It's one of the best feelings in the world."
Hockey is known world round as a very aggressive sport, and most people think that the final score of a game is a reflection of whose team was more combative that day. However, there is a lot more thought that goes into the game. "You have to think things through. It's kind of a chess match when you get down to it. I know that the perception is [that hockey] is rough and hard, but I like the chess game aspect of it because I like to think things out," Carr said.
Since the game is so quickly paced, players must constantly keep their spirits up and their determination high, because, in the blink of an eye, the entire course of the game can change. "I'm extremely competitive, so I'm always in that mindset. No matter what, even if we're down 8-1 or up 8-1, I'm still going to compete in every single shift," Davis said.
Despite NPHS' lack of a hockey team, players around campus are still extremely grateful to play the sport at all. "[Hockey is] just a good environment. There's a lot of challenges that come with it, but it is fun and I like the environment. The more time you put into the game, the better your outcome will be," Lawrence said.