Honeycup opens its doors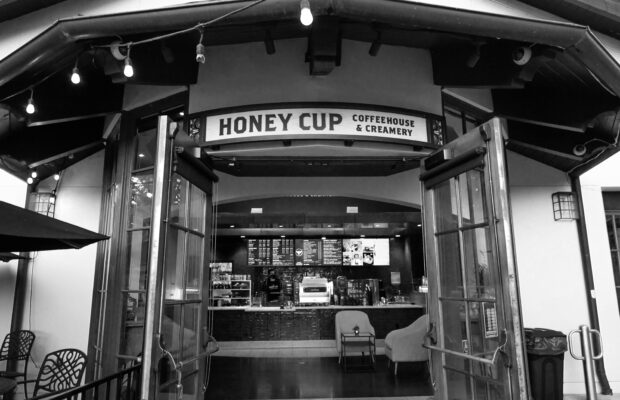 Fading afternoon light poured through the large green windows of a brand new coffee shop aiming to be the "Cheers" of Newbury Park. Honey Cup's second-ever location and new flagship store first opened in the Village, Dos Vientos, during early September 2021. The store serves coffee, tea, ice cream, and brunch items.
Tastes and Tales, a company that also owns a restaurant in Ventura, bought Honey Cup a few years ago. Ian Reigelman, the manager of the Honey Cup in Newbury Park, explained how this helps the Newbury Park coffee shop. "Our bread is all made by hand in [the Ventura restaurant], they slice all of our deli meats for us, all of our cheeses, they do everything, everything, everything. The only thing [we] really don't make is bagels" Reigelman said.
Mary Sherman, along with her granddaughter, stopped by the coffee shop one afternoon and enjoyed her experience. "[Honey Cup has] a nice atmosphere, they have TV screens, they have nice outdoor and indoor seating areas, they have lots of breakfast and brunch options. Not many chain places have brunch options," Sherman stated. "I got a latte and my granddaughter got vanilla ice cream. The ice cream is homemade and the coffee is really good," Sherman said.
Bailey Camp likes working as a barista at Honey Cup. "I love all my co-workers, and I feel like it's just such a fun environment. Honestly, all of … our customers have been amazing, … so it's just like a fun environment," Camp said. "The school is right around here, so we have a good mix of like the moms coming and dropping off their kids in the morning and then all the kids come and get their frappuccinos and smoothies. So this is nice because everyone can just come and hang out, it's just a nice area."
Reigelman shares Camp's sentiment. "It's not your work. It's not your house. It's a third place to kind of hang out, chill, unwind. Ideally, you know you're coming here to maybe do your homework, maybe meet some people, show up for some coffee, realize you've spent like three hours here and now you're hungry and get one of our awesome sandwiches too."