Lark Detweiler: A journey of passion and perseverance
As she moves across the stage, the first things immediately apparent about Lark Detweiler, sophomore, are her technique, her strength, her poise, and her passion. What isn't immediately apparent is that the ballerina has been hard of hearing since her childhood.
After going through an unidentified illness that burned the cilia in both of her ears, Detweiler lost most of her hearing at the age of two. For two years she had to learn and practice reading lips until she got hearing aids at age four. With the help of her new hearing aids, she could hear most sounds again; however, still had difficulty hearing high, soft tones.
"I can't remember what it's like to not rely on hearing aids," Detweiler said. "They can be annoying, like having something stuffed in your ears all day."
During the turmoil, Detweiler's mother, Juliane, a former dancer, decided to enroll her daughter in ballet classes at the age of three, in hopes that as a teenager she would have good posture.
"In sixth, seventh, and eighth grade, teenagers always go through those awkward periods where they're uncomfortable. They don't stand up straight, and they're self conscious," Juliane said. "Dancers always stand with their shoulders back and their head up, so I thought at the very least it's going to give her confidence, and she'll feel good about herself."
Despite initially agreeing to take dance classes simply to appease her mother, Detweiler began to fall in love with the art, especially ballet. In recent years, her love for dance has escalated. During the past two summers, she practiced ballet 7-9 hours a day at the Boston Ballet, at "a summer intensive training program in classical ballet with a comprehensive curriculum designed for serious ballet students ages 10-19", according to Boston Ballet's website.
"The hardest part of ballet?" Detweiler mused. "Everything. To be honest, I think that's the most fun part about it for me, because there's an obsession with being perfect, and you'll never be perfect in ballet."
According to the ballerina, making it to the level she's at hasn't been easy, let alone just dancing to begin with. Detweiler has difficulty hearing music while she's dancing, so she has to "really listen to the music in order to understand the beat."
"She's not shy," Cameo Carolan, head of Dance Department, said. "If there's something that she feels she missed, she's very forthcoming with asking you to repeat that or stepping in front of someone to look at you, hear, and read your lips. She's not like some students who hide that they have a problem. If she has a problem, she's very proactive in wanting to be better."
Despite the difficulties that come along with dancing to a song from memory, Detweiler has found strength in her team. She finds comfort in how her friends on dance team support her, such as helping her hear the coaches' directions and get the timing correct.
"We treat her like a normal team member but we also make sure that she can watch the coaches' mouths, because that's how she 'hears,'" Marissa Lee, senior and dance team member, said. "She is hard of hearing so she can hear the beats, so she makes sure that she's always on rhythm. I think people are always trying to help her out but it's not like we are isolating her and treating her differently. So she's just another part of the team."
Over the years, Detweiler has grown used to her hearing aids, although they can still be a nuisance at times.
"(The hearing aids) can be tiring after a while, but the good thing about them is it's easy for me to sleep," Detweiler said. "I can turn them off when someone annoys me, but I don't do it very often."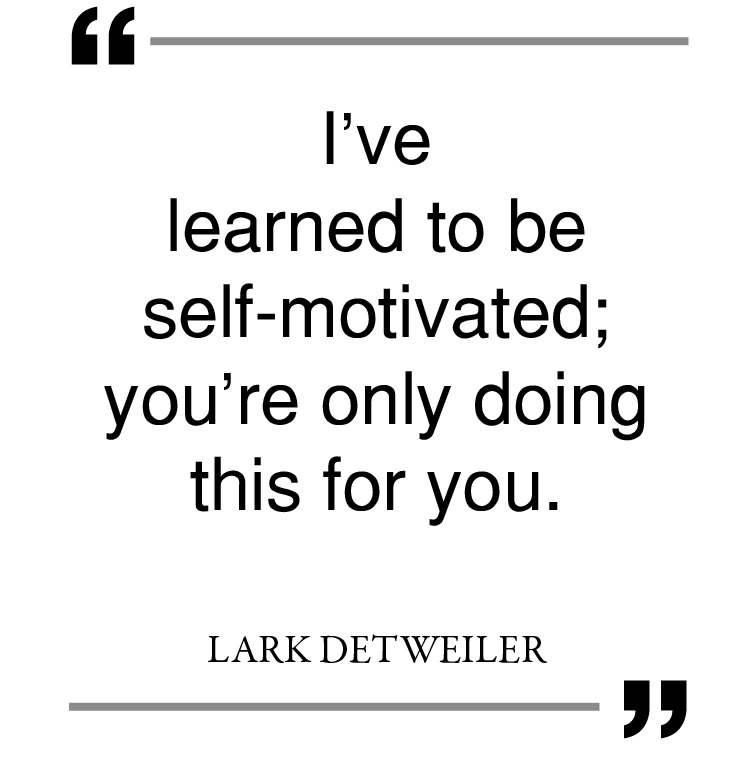 But when it comes to performing, Detweiler feels at home on the stage, wrapped up in the routine rather than in what she can or can't hear.
"It feels so good," Detweiler said. "I love performing, it's my favorite part. I don't remember my hearing aids; I don't remember anything but the movement."
Although thoughts of Broadway and ballets are in the back of her mind, Detweiler is interested in eventually studying physical therapy, particularly with a focus in programs that connect dancing with kinesiology. But for now, the sophomore wants to "enjoy high school and dance as much as she can."
"I've learned to be self-motivated; you're only doing this for you, so if you don't like it don't do it," Detweiler said. "But there's also some things in dance that you won't like but you'll still have to do because you love dance. I've learned to work hard 120%."
Detweiler is thankful for the opportunities she's been given rather than disheartened by  the struggles she has faced.
"I wouldn't wish to have my hearing back, because it's caused me to become the person I am today," Detweiler said.