Newbury Park Unified Sports spreads teamwork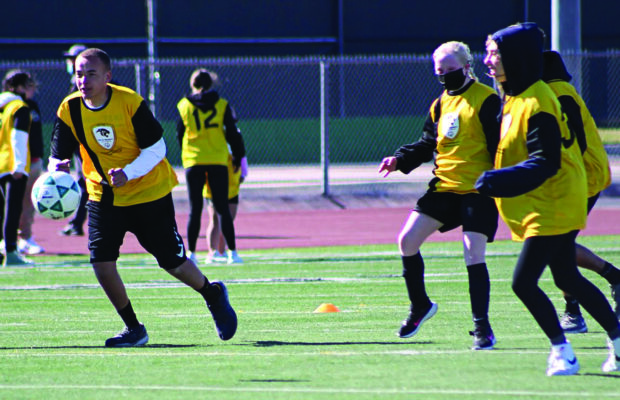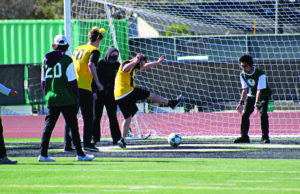 Goal- Pictured is one of the Newbury Park team members kicking the ball towards the goal. The players shoot goals and form bonds, according to Coach Samantha Stewart. "You're playing a sport, but you're building friendship and you're also [building] compassion and empathy," Stewart said. Stewart, often going by the moniker of Coach Sammi, teaches Unified Sports at both Newbury Park and Westlake High School. She has been with Unified Sports since she was around the age of thirteen.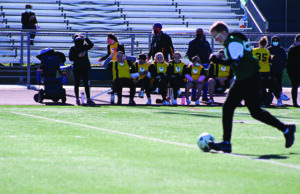 On the bench- Team members of the Newbury Park Unified Sports club watch the Friday soccer game from the sidelines at Thousand Oaks High School. The kids pictured are waiting for their turn to get out on the field and kick the ball around on a windy afternoon. "All the kids really enjoyed themselves, all the kids got into the game," said Anne Alvarez, the head of Unified Sports at Newbury Park. Alvarez has been with Unified Sports for several years and is excited about the future of the club in the coming months.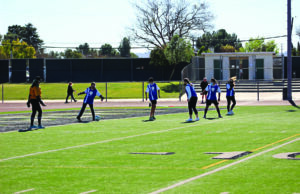 Teamwork- Members of the Thousand Oaks Unified Sports team gear up for a kick. Opposing them is, of course, our home team of Newbury Park, equally ready to play. "Giving them an opportunity to go out and play sports and have fun, it's really important and it's a really great cause," Elise Jones, senior, said. "I really stayed just because the students just have such genuine joy… I love doing sports with them and just hanging out, they really make my day better. And I feel amazing afterward."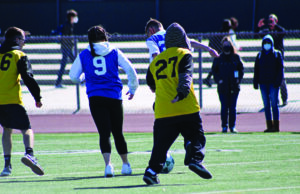 Kick- Players of the Newbury Park Unified Sports club pass the ball down the field during Friday's game at Thousand Oaks High School. Team members can be seen having a ton of fun on the field, and for good reason. "We're all just having a great time and everyone is there to have fun but also to be helpful and, you know, give back to the school," Elise Jones, senior, said. "It definitely helps people feel included," Jones said. "Sports are a great way to build a community and we can build a community with people [who] we don't always have in our classes, but can include them in other things."