NPHS Choir kicks into season with some holiday cheer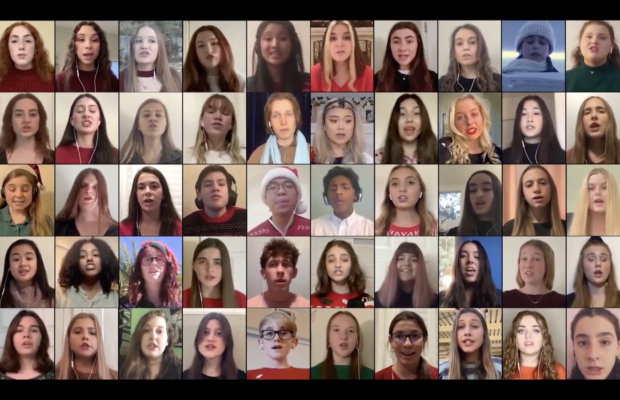 On Dec. 17 and 18, the NPHS Choir department hosted a virtual concert showcasing their different levels of choir and several soloists singing various holiday tunes.
Sofia Ochoa, senior, is a member of the chamber singers and the concert choir. The set up for this concert was definitely different from the past. "We would learn our parts, and then we had to record an audio of us singing our parts," Ochoa said. "Then we would do a separate video of us doing a recording of ourselves singing that part. Then the audio of the video will be taken out and then they will put it together with the first audio that we sent."
Setting up a virtual concert comes with some struggles that the students as a whole needed to get through. "Some challenges with the preparation for the concert [were] making sure you had good audio, and camera quality for the videos we made, and the process of getting everything prepared was a lot of small things, like making sure you can't hear siblings in the background of your audio or that your video was nice and clear," Emma Sasala, sophomore, said.
Sasala originally joined choir in her freshman year of high school, and is now in the Advance Woman's Ensemble. With COVID-19 being a major issue, choir is not the same as it used to be. "COVID has affected choir for me because I love getting to be around my classmates and getting to perform on stage with everyone on songs we've been working on for a long time," Sasala said.
Cole Graham, freshman, is new to the concert choir. He has been singing since the 2nd grade, joining the elementary school choir. As a freshman, it is harder for students to collaborate and meet other students, as everything is done virtually. "Sometimes we go into breakout rooms and meet people, but it's definitely been harder to meet new people. I've met a few people but I think I would have gotten closer to people if we were in person," Graham said.
Without a doubt, this concert was something out of everybody's comfort zones. "I feel like it's easier online to like, not be motivated and stuff so it taught me to really pay attention and focus on like, learning the music, because it can be really easy to fall behind if you [don't]," Graham said.
Although there was a lot of trial and error throughout the preparation, this concert brought a lot more opportunity and recognition for the program. "I think something cool is that our concert was free, so like anybody could see it. Family or people that don't have a whole lot of money to spend on a concert could be able to see it…they didn't have to be in California too," Ochoa said.