NPHS students create memorable promposals
With prom coming up next week, dynamic duos within NPHS have been rushing to prompose. A good promposal takes a lot of meticulous planning: picking a theme, decorating the sign and finally surprising the unexpecting receiver. This prom season, many NPHS students went above and beyond, producing many unforgettable promposal moments.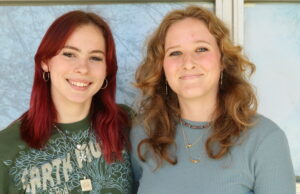 Dressed up – Kayla Knight, junior, promposed to her girlfriend Anna Miller, junior, after decorating a sign featuring popular band 'Boygenius' ', "When I came back, she and her friends were staying outside with a sign" Miller said. As the big night approaches, the couple are excited to be going together, " I'm excited for pictures and then like I'm excited to see the venue I feel like it'll be pretty. I'm excited to be able to wear a dress and get ready and feel nice" Miller said.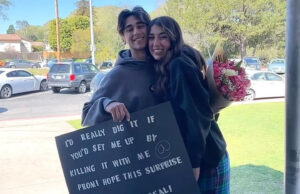 All out! – Faith Mineo, senior, is ready to take on her final prom after being asked by Marcel Moufarrege, senior at Conejo Valley High School. For Mineo, having a true date to senior prom wasn't always the plan. "I asked him to go with me just as friends and then we started hanging out as more than friends," Mineo said. The sign Moufarrege made for Mineo was volleyball themed, reminiscent of Mineo's many years of playing the sport. For Mineo, color coordinating is of utmost importance, which she has already planned with her date. "We're going all blacked out… and then the accent color is gonna be red because we got a red Corvette to take to prom," Mineo said. Mineo and Moufarrege are ready to take on their final prom.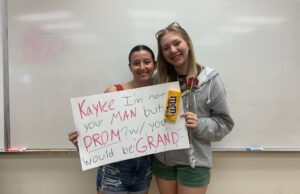 No date no problem – Emily Klein, senior, will take on prom with one of her best friends, Kaylee Achbrenner, senior, following an unforgettable promoprosal, "We weren't going with any dates, and we just wanted to go with our friends. So I had a lot of fun coming up with the poster idea. I was excited, because I've ever proposed to anyone" Klein said.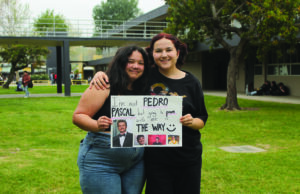 Last prom – Who said friends can't ask each other to prom? Remi Parise recently asked their friend Maddie Soriano to prom "It was funny, mostly. It kind of started as a joke, because we knew that we were gonna go to prom together," Parise said. Even though the duo are juniors, this will be their first and last prom together as Soriano will be moving to Oklahoma shortly, "I'm most excited to spend time with Maddie before she moves, we're really close and I'm going to miss her like crazy, so we're trying to be together as much as possible before June" Parise said.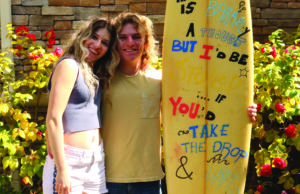 Gnarly promposal – Keegan Fish and Paige Thompson, seniors, did not wipe out on their final promposal! Thompson's plan to prompose to Fish was much grander than the classic poster. "She had a giant surfboard and she had written on it. It was some surf pun on it like, 'will you wipe out prom with me?'" Fish said. Thompson pulled off the ultimate surprise, "[She] told me to take a walk outside and it was all set up. She had this surfboard on her van blasting music," Fish said.