Pickleball league thwacks it out of the court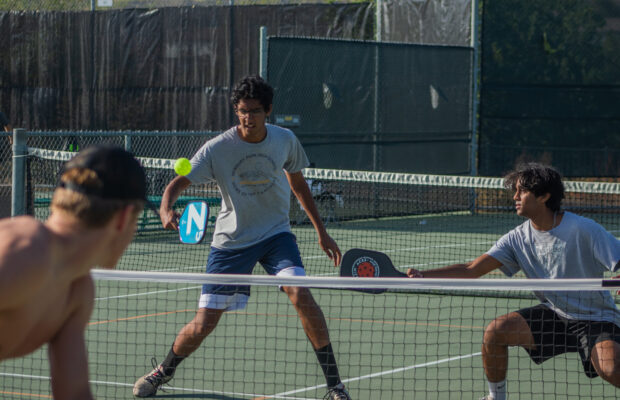 The Newbury Park High School Pickleball league is an unofficial competition run by students between upperclassmen where players compete in teams of two. 42 teams are competing for an overall prize pool of $420, which every team contributes to through their entree fee. The winners of the first round winner bracket will receive a prize of $340 and the winner of the loser bracket will receive $80.
The tournament was created in order to bring people together while playing an easy to learn sport. Adi Chattopadhyay, senior, co-founded the tournament after recently learning the sport. "[Pickleball] was so fun so I thought that after water assassins ended, we should do another community based competition that could bring people together. It's our senior year so we just want to do as many things as we can together," Chattopadhyay said.
Pickleball provides a mixture of both social activity and competition, which creates a fun environment for players. Karthik Tholudur, junior, is a cricket and tennis player who has started playing pickleball in recent months. "I enjoy that it's an easy game to just go and play for a short period of time and that it's very social since you can talk to the person right across the net, and kind of joke around while you're still playing a competitive game," Tholudur said.
Tim Chen, senior who also co-founded the tournament, noticed the amount of people from Newbury Park High School who played pickle ball and wanted to bring everyone together to compete for fun. Chen is competing for the team "TC Dog," which is an inside joke between him and his partner, Parker Knupp. "In middle school his email was PK dog dog and my email was TC cat cat so we added those together," Chen said.
Due to the nature of pickleball, the tournament is populated by players with various levels of experience. "[The tournament] is a combination of people playing for fun and also competition because there's people of all skill levels in the tournament," Tholudur said.
Because of the cash prize, the tournament also has a very competitive aspect which helps create an exciting environment. The players are split up into two brackets based on their performance in the first round of the tournament. "In the first game, we kind of rank everyone based on a power ranking that we sort of think that they are and then pretty much we play one game where the winners of that game goes to the winners and the losers of that game goes to the loser bracket," Chen said.
This year is the first year that the tournament has been hosted, but it has entranced a lot of people to both participate and support those who participate. "So many people came out with chairs and posters. It was really cool to see how passionate people were about the tournament, so I've really enjoyed seeing that we've started something so many people care about," Chattopadhyay said.