Remembering Jack "The Beast Bennett" Frye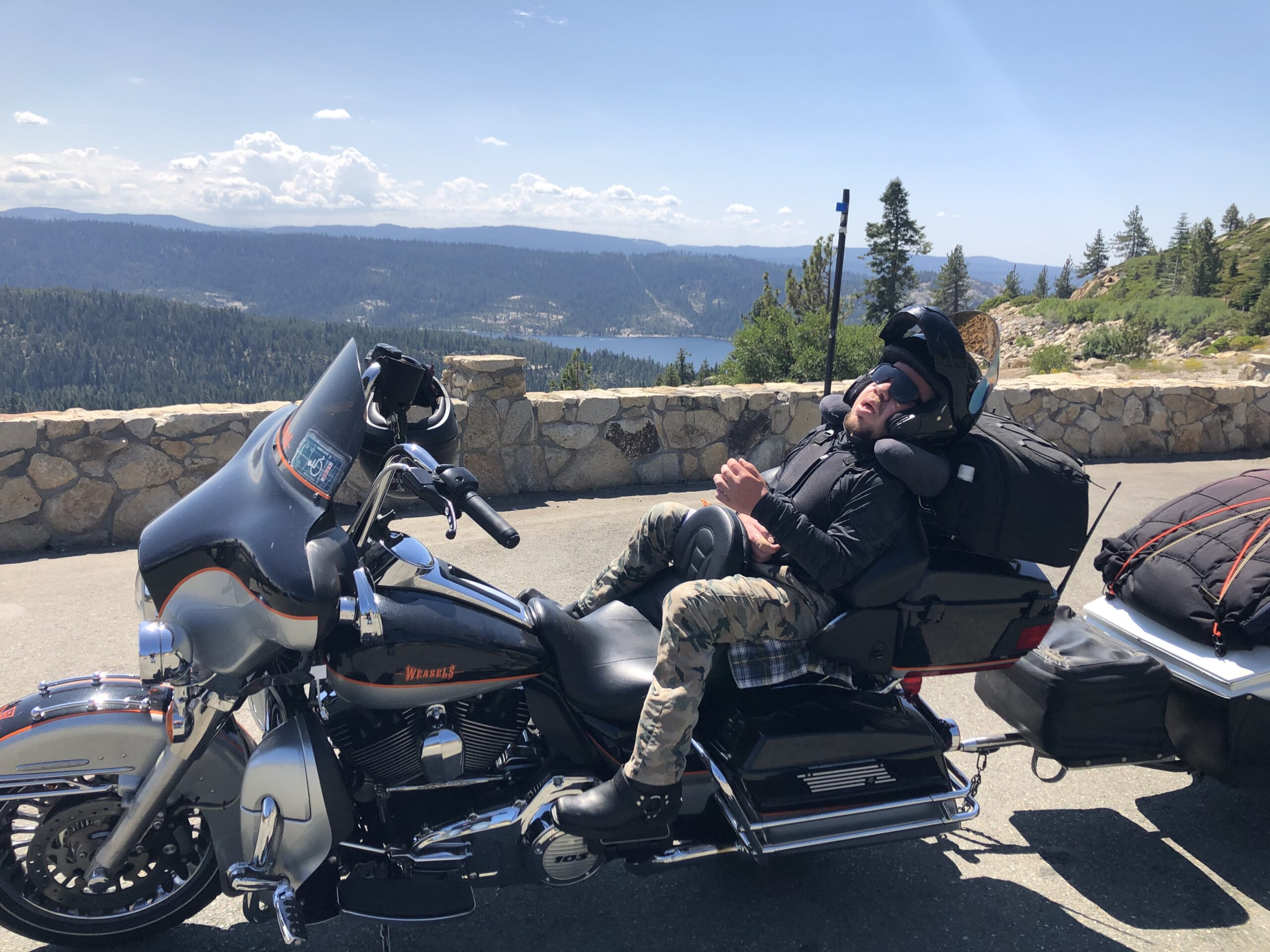 Beloved NPHS senior Jack "The Beast Bennett" Frye was a character. Always found belly-laughing and ready with some comeback banter, Jack was the most headstrong and passionate person anyone could know. He loved action figures, the Ninja Turtles, the Avengers, Star Wars and his high school football jersey. A treasured friend, classmate, athlete and son, he peacefully passed after a long and brave battle against mucopolysaccharidosis type II (MPS II), also known as Hunter Syndrome, surrounded by family and friends on the morning of Thursday, Jan. 28. The Newbury Park community will deeply miss Jack and his joyful presence, and he will always be remembered in the hearts of those that he touched.
As "The Beast"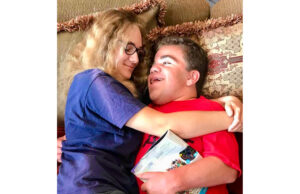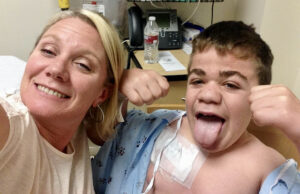 A forever football fan, a motorcycle connoisseur and a bundle of energy, Jack Bennett was a force to be reckoned with.
Jerry Bennett, his father, recalls Jack's constant perseverance and determination. "Ever since he was little, he had an incredible amount of strength," Jerry Bennett said. "He was 148 pounds of muscle, just pure muscle. He could push his way through anything. So all the hospitalizations and all the surgeries that he had throughout his life, he pushed right through them. He just was a beast."
For all his family and friends, that phrase would soon be synonymous to his name. "We just started calling him 'The Beast,'" Kimberly Bennett, Jack's mother, said. "He called himself 'The Beast' and he didn't want to be called Jack. He said, 'No, I'm not Jack. I'm 'The Beast.""
Being on a motorcycle was one of Jack's favorite pastimes, a passion he shared with his father his entire life. "He traveled around the country with me on my motorcycle for years," Jerry Bennett said. "In his later years, once he was in the wheelchair, it was a lot of work for me but the smiles he had made the effort totally worth it."
The pair found themselves on a number of adventures across the country. "His last motorcycle trip was in early August of 2019," Jerry Bennett said. "We did a 2000-mile motorcycle trip where we got caught in a hailstorm outside of Reno, but we found this really cool hot spring on the Clackamas River up in Oregon. We camped, and I took him into the hot spring."
At the hotspring, Jack and his father bonded while trying therapy with hot rocks. "I was doing that old Indian therapy with hot rocks from the hot spring, laying them on his chest. And he just really dug that, that was a really cool thing," Jerry Bennett said.
Today, he holds that trip with Jack especially close to his heart, as it was their last and most eventful motorcycle trip. "It was his last time he was on the motorcycle, so I hold on to that memory a lot," Jerry Bennett said. "That's a big memory."
Jack's memorial service was held Feb. 1, in which close family and friends gathered virtually to share fond memories and speak on his legacy. Brandon Bennett, his older brother, recounts his welcoming and kind spirit that brought people together wherever he went. "The most important thing that Jack collected, though, was people. Jack had magnetism to him that drew people in, in all walks of life," he said. "When you feel limited by [what] is beyond our control, remember to be like Jack."
No matter what, Jack could do anything he set his mind to. "He didn't let his disease stop him. You know, he never felt sorry for himself. He did everything he could do. He would not let other people help him. He didn't want help. He wanted to do it on his own," Jerry Bennett continued.
Above all, nobody stayed as true to themselves as Jack. "Jack was like Jack everywhere," his father said. "Loud and rambunctious and playful all the time… That's how Jack was. He was just full of life and laughter…He was a pure soul."
As a student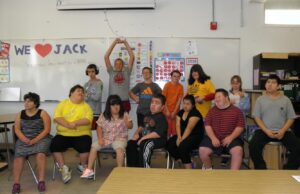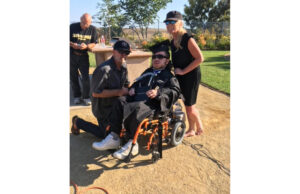 Jack was a well-known student around school, making friends wherever he went. "He just loved school. He loved Newbury Park High School and he talked about it all the time," Jerry Bennett said. "When Jack was a freshman and [Nicole Bennett, Jack's older sister,] was a senior and he used to see her on campus, he'd tell her, 'Go away, this is my school.'"
Emily Neiyer, senior, was Jack's friend and a fellow member of the Panther Pals program. "I don't even think words can fully describe how much of an amazing and fun environment he created all on his own with his jokes and contagious smile every meeting," she said. "Jack just had his own unique way of winning over every room he was in. Everyone he met instantly loved him and his personality… He was the best listener, the biggest jokester and had the sweetest heart."
Jenny Finger, senior, was introduced to Jack by her sister Avery Finger, who had class with him. "My sister would come home from school every day and talk about Jack and she'd be so excited to go to school just to see Jack," Jenny Finger said.
Both in and outside of classes, Jack was a beloved member of the NPHS community. "Every time I saw him, everyone around him had a smile on their face. He could make anyone smile and everyone wanted to be around him because of that," Jenny Finger said.
Richard Bradley, social science teacher, met Jack in 2016 and the pair quickly formed a close bond. During that year, Jack's birthday had fallen on one of Bradley's mock election days, and Bradley invited Jack over for a pizza party. "He walked through this door, all feisty, like he owned the place…He was throwing out orders. 'I want pepperoni,'" Bradley said. "The culture of this school is all about acceptance and inclusion, and Jack ended up sitting [and talking] with all my students."
As NPHS switched to remote learning, Jack was able to attend some Zoom meetings with his classmates. "Even though he was in a hospital bed and couldn't talk, you could tell that he was paying attention to what was going on… and I think that made all the difference. The kids were thrilled to have him in class," Anne Alvarez, his teacher, said.
Both in and out of the classroom, Jack never failed to let anything stop him from doing what he wanted. "Jack was a fighter. That guy had to battle so many things, and he just always did it… I just loved his feistiness too, because he was just always going to find a way to get his way," Bradley said.
Jack leaves a lasting impact on the students, staff and culture of NPHS. "Jack was very proud of himself, his sister and his family, and I think that people need to know that he was proud of them. And he was proud of being a member of NPHS," Alvarez said. "He loved everybody in NPHS."
As an athlete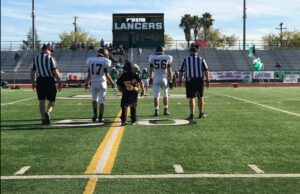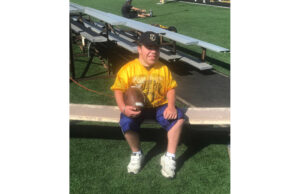 On his first day of freshman year, Jack announced that he would get himself on the football team- and that's exactly what he did. "He just [walked] up to [Coach Hurley] and [said], 'I like football, and I want to be on the football team.' And, you know, he was persistent," Jerry Bennett said. "At the end of the school day, I pick Jack up and here comes Hurley, you know, big football coach. And he says, 'Hey, he says he wants to be on the football team. I told him he could be my assistant. Are you okay with that?' 'Yep, he's on the team.' And that was all Jack. Jack did that."
There was no one on campus Jack loved more than his teammates on the football team. "Having him at football practice, I know, was a big deal for him," Ryan Hurley, Jack's football coach, said. "To be honest, I think it is a big deal for our kids. I think our kids got, and I know I did, just as much [out of] of him being there and being a part of the team and being a part of something."
Every day at practice, Jack would light up the field with his laughter and enthusiasm. "Jack was just so full of energy. He was a ball of energy and muscle. It was almost like having a puppy around, you didn't know if you wanted to get on them and wrestle, or mess around and have some fun, but at the same time keep an eye out on them," Hurley said. "[The team] got just a kick of having him around as he did at practice every day, telling everybody was a big bad football player and played tackle football."
Grant Richter, junior, is a football player who met Jack while volunteering at the 2019 Special Olympics, getting to know him during his practices. "I got to push him through the football drills during the Special Olympics," Richter explained. "He had a big smile after that event."
After the Special Olympics, Richter and Jack continued to see each other during football practices. "He was a funny and nice and kind person. Everyone always wanted to be around him," Richter said. "He was a really outgoing person… he always had a smile on his face."
Inspired by his presence on and off the field, Hurley awarded Jack the student character award in 2019. "When [the award] was presented to him, there was the biggest round of applause given to him than any other student…he was dressed up in a good shirt and tie and grinning from ear to ear," Alvarez said.
Jack's legacy has and will continue to leave a lasting impact on the NPHS football team and its players. "He left this world way too soon, he was such an inspiration to everyone he met," Richter said.
No matter what he was faced with, Jack lived up to his nickname "The Beast Bennett," and found a way to overcome any obstacle in his way. "He didn't ever get to wear pads or play a football game. But he was the toughest kid I've ever coached," Hurley said.