Buckley and Lewis head back home
Arriving at your first day of school in a place thousands of miles away from home, where everyone speaks funny and has a culture different from yours can be very challenging. However, Emer Buckley and Ella Lewis, seniors, persevered through their high school years at NPHS, an ocean away from their respective homes. Now that the time to start a new chapter is on the horizon, the two are heading home.
Emer Buckley – Across the Atlantic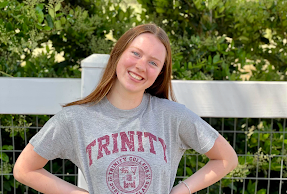 Buckley will be attending Trinity College of Dublin in Ireland this fall. "I was actually born [in Ireland] myself and my whole entire family is there. My parents and I and my sister moved here when I was ten," Buckley said.
Buckley's mom works at Amgen, the main reason why Buckley moved with her family to California. "Initially it was temporary…then it turned out that I'd be finishing high school here," Buckley said. Her whole family plans on eventually moving back. "My sister is already back there, she graduated [NPHS] in 2018 and went back for college…my parents will be looking to make it back eventually, but…it'll take them a while to figure things out here and slowly transition back to Ireland," Buckley said.
One of Buckley's favorite experiences in the US is cheerleading. "In Ireland we don't have cheerleading but obviously here cheerleading is a huge thing so I was determined to at least try it…I did Steelers cheer for two years and then I've done high school cheer for three, so I think that was a fun experience because I never would have gotten that before," Buckley said.
Although Buckley is ready to go home to Ireland, she wouldn't take the American experience back. "Ireland is a very small island country, very small town community. I think it's so cool that I even got to have…eight years here and just experiencing a whole different way of life and culture and everything so I'm definitely super grateful that we got to move here and experience life here," Buckley said.
Ella Lewis – Across the Pacific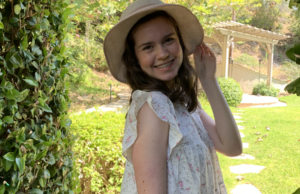 Lewis is from Adelaide, Australia and her dad works in the Australian Defence Force. "They are currently working alongside some of the American defense was here. So they gave him the opportunity to have a press [job] here for a few years. He took it, and it was based in Newbury Park. And so we all decided to move together as a family," Lewis said.
For Lewis, one of the greatest culture shocks of coming to the U.S. was the education system itself. "I think just the education system in general, is very different. I came to America from an all-girls Catholic school. So, coming to a public school in America, my Catholic school had just about 400 students…That was a very big thing for me and just trying to adjust to different educational systems, different curriculums and trying to figure out what I'd missed, what I need to catch up on," she said.
Coming to the U.S. certainly had many challenges for Lewis. "I miss my family to death, or I just want to talk to a friend that I haven't been able to talk to in a long time. I wish that I was at home, and I kind of wish that I never left," she said.
Despite all of the challenges it may have brought, moving to the U.S. served many positives for Lewis. "It's given me a greater world perspective has been able to meet a lot of different people. So in that regard. I've grown as a human being. And so I wouldn't, I wouldn't regret that aspect of that," Lewis said.