Solar eclipse captivates students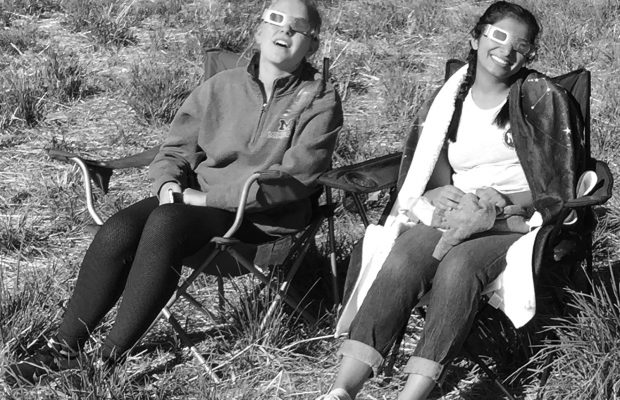 Thousands of people travelled across the country to see the first total solar eclipse to go through the U.S. in nearly 50 years. Although the total eclipse on Aug. 21 lasted for only a few minutes, several Newbury Park students look back at it as an unforgettable experience.
Dylan Willis, sophomore, flew to Oregon with his mom and brother, senior Evan Willis, he heard it was a "once in a lifetime experience," and decided that he wanted to witness the eclipse first hand.
Alisha Patel and Olivia Johnson, seniors, decided to go see the eclipse and took a road trip to Oregon to see what was said to be a rare phenomenon.
"We drove nine hours the first day and camped at Mount Siskiyou," Patel said. "Then we drove eight hours the next day to Eugene, Oregon, and watched the eclipse. Then, we drove 13 hours back to the San Francisco area and than back home."
At first, the seniors were reluctant to go, as there were only a few days of summer left, but in the end they did not regret their decision.
Willis went through Alaska airlines and could not contain his excitement on the way to Oregon, "It was an unforgettable and awe inspiring  experience," Willis said, "the trip was indisputably worth it and would go again if I could."
"Seeing the eclipse was surreal. It was as if it was night, but the sunrise was happening at the same time. It was almost like the exposure got turned down on Earth," Johnson said.
When the sun was completely covered by the moon, spectators were able to take off their glasses for about two minutes and witness the world being lit up by nothing but the corona.
"We were watching it in a huge, empty field in Oregon, and all around us it was dark, it was like twilight. Within seconds it was bright again, since it was 10 in the morning," Patel said.
The friends got back home the day before school began and brought many memories back with them. Patel described the trip as "the perfect way to end the summer."