Students must take action on gun violence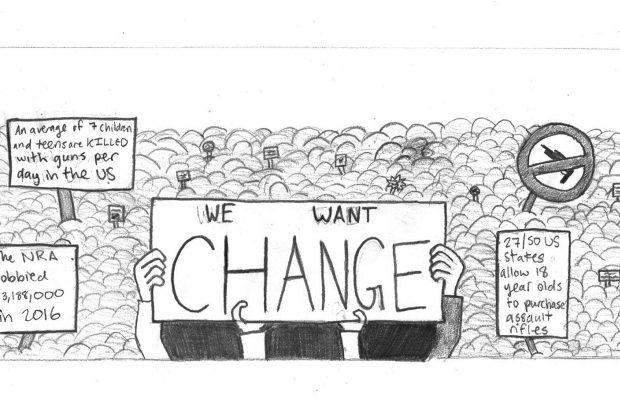 In October, we wrote an editorial demanding that the United States government take action on gun control to prevent another tragedy like the Las Vegas shooting. We are writing another editorial because the Feb. 14 school shooting at Marjory Stoneman Douglas High School made it clear that action is still needed.
In a neighborhood just like ours, at a school no different than ours, 17 students and teachers were shot dead while trying to learn. These were students no different from us. They were studying for tests, planning club meetings and waiting to hear back from colleges. By not acting to limit gun availability, we let them die.
In our previous editorial, we wrote: "After Sandy Hook, we said never again. After 1,518 shootings, it is time we make that saying a reality." After 1607, nothing has happened. Thoughts and prayers did nothing to prevent Nikolas Cruz from purchasing an AR-15, walking into a high school and opening fire. Condolences will not save students when they hear cues to lockdown and text their parents, helpless at home.
Students reported the gunman. He was expelled and there was an armed security guard on campus. They had practiced lockdown drills. If Cruz had not been allowed to purchase an AR-15, those students would have been spared.
Opponents of gun control say, "We have a mental health problem." We do. However, unstable people exist in every part of the world. In America, we let them buy assault weapons.
Gun control legislation will not prevent every single gun tragedy, but it would make these tragedies significantly harder to come across.
If anything good can come from such an atrocity, it is that we realize the need to mobilize and stand up for our own safety. The students of Marjory Stoneman Douglas High School have responded by taking action on gun violence, speaking to news outlets and planning marches and rallies. The face of the anti-gun violence movement is now students– students who are forced to speak for their own lives, because their representatives have not and will not.
Here in Newbury Park, we must join our Floridian peers. The shooting in Parkland, Florida could have easily happened in Newbury Park, California or any other city in America. It is not acceptable to only grieve and move on.
Some of us may not be able to vote yet, but we need to inform ourselves and get active. Write letters to senators and representatives asking for stricter gun control laws. Go to marches, like the March For Our Lives LA on march 24. Tweet about #NeverAgain. Talk to your parents and friends and teachers. We must be active and not let this momentum die.