Students showcase their unique fashion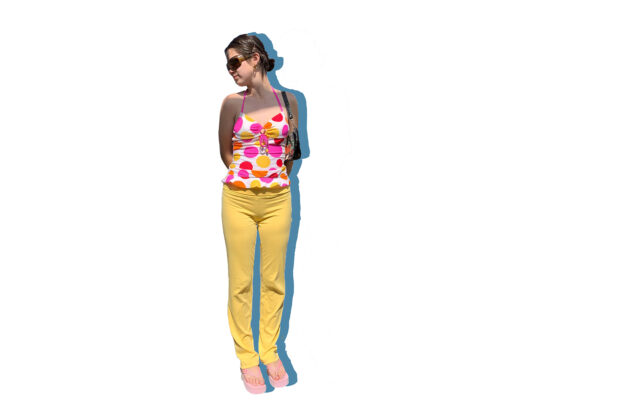 Fashion is defined by each individual. It is made up of accessories, staples, aesthetics—all put together to create a personalized, picture-perfect outfit. NPHS is home to many students with unique outfits and styles, who take inspiration from several different people and give fashion a whole new meaning.
Householder creates an aesthetic
Paige Householder, senior, switches up her looks everyday and refuses to be categorized under one aesthetic. "I like to experiment and just wear whatever I think is cool. I don't like to put my style under a certain category because it feels very limiting to stick to one overall theme," Householder said.
Householder loves to find one of a kind pieces, the kind that one would not just find at a standard store at the mall. "I love going into thrift stores not knowing what I am going to find, and I put together fun outfits with the treasures I find. Everything I own is second hand because the pieces tend to be more unique, and it is also a lot better for the environment than buying from fast fashion stores," Householder said.
Like many on campus, Householder's looks are inspired by influencer and business owner Devon Lee Carlson. "She has a really unique style, and any time I find a cool piece of clothing I think about how she would wear it."
Householder's outfits consist of a mix of staples and classics. Everytime she puts a look together, she incorporates some of her closet essentials. "Some must-haves for me are different colored tank tops, a pair of platform shoes and a good pair of jeans because these pieces are so versatile."
To complete any outfit, Householder uses an array of accessories, treasures that she finds from all around the world that hold a lot of meaning. "I wear at least one ring on every finger at all times. My rings come from hand-me-downs from relatives to shacks on Hawaiian beaches. [I'm almost always] wearing my heart shaped Gucci necklace that my boyfriend gifted me. It's a super cute and simple piece that matches everything," Householder said.
Hurd explores new styles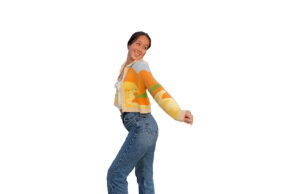 Natalie Hurd, senior, defines her aesthetic as indie basic, but she always loves to try out different styles. "Sometimes I'll go more girly or other times, a little more edgy with darker colors, but I really like to be able to just switch among styles," Hurd said.  Her fashion consists of her own signature outfits inspired by icons Bella Hadid and Devon Lee Carlson. "They're just so unique and quirky, and I like that they are very open about trying new things and being able to wear certain items that I would never think to pair together," Hurd said
Hurd created an eccentric style with her purchases from thrifting. Rather than retail shopping, she enjoys finding all sorts of different pieces by thrifting. "I'm really into thrifting and buying secondhand off of Depop or Poshmark or Ebay," Hurd said. "I especially like being able to get items that basically no one else will have, because they're vintage or older."
From all kinds of thrift stores, Hurd searches for various types of clothing, from baggy graphic tees to crochet jackets. "I'm really into just basic graphic shirts, because they're easy to layer or just wear by themselves. And I love crochet jackets," Hurd said. She also likes to accessorize her outfits with minimalistic pieces, but her favorite ones are from her grandmother, so she adds sentimentality to her outfit wherever she can.
Taggart expresses through fashion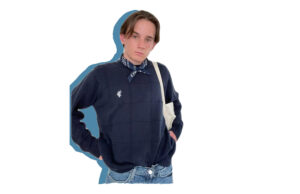 Cal Taggart, sophomore, believes that fashion is beyond just an outfit. "Style is obviously a way of expressing yourself, but it's also like a universal language. I kind of think of it that way because there's no words, so anyone who sees your style can understand it," Taggart said. 
Taggart does not conform to just one style; he switches between them and keeps all his friends on their toes. He could go out one day in a chain and joggers with more of a streetwear inspiration in mind, but completely switch it up the next, wearing pearl necklaces and collared shirts to give more of a soft boy aesthetic. 
Taggart creates his own outfit out of aspects he enjoys from pictures on social media and clothes he sees celebrities wearing on the regular. He looks for clothes that can help him put together outfits that have a mix of comfy and classic. "I think my go-to outfit would be some type of jeans with an oversized graphic shirt and possibly some type of sweater or sweatshirt over that," Taggart said.
No outfit is complete without the perfect accessories to match, and accessorizing is one of Taggart's favorite aspects of fashion. "I love accessories. Usually I go for… a small necklace or chain or rings or bags," Taggart said. People find accessories everywhere from malls to flea markets to their friend's collections, but Taggart personally enjoys using homemade items and gifts rather than shopping for new ones. "People just give me stuff. My friend makes me some stuff, so I like to wear them. I don't think I have a specific store to get them at," Taggart said. 
Snodgrass breaks the binary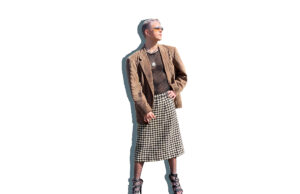 Micah Snodgrass, sophomore, has a style which incorporates all different types and textures of clothing, ensuring inclusivity in everything they wear. Snodgrass is inspired by the expressionist styles from Egon Sheile and Gustav Klimt and is also heavily influenced by fashion from different time periods. "Time period-wise, what I really like is the fashion around the 70s because the 70s influenced fashion all the way to the 90s, so a lot of what we wear today, because 90s fashion is coming back, is really just 70s fashion," Snodgrass said. 
Like many people from Gen Z, Snodgrass enjoys shopping at thrift stores like Goodwill and Salvation Army to get unique pieces at an affordable price. Thrift stores are also good places to get vintage clothing, which is what Snodgrass tends to integrate into their outfits. "A lot of Goodwills actually carry products that might show up at retail stores, because usually they sell them a lot of their clothes to companies," Snodgrass said.
Gender stereotypes have built the impression that dresses are for women while suits are for men, but Snodgrass makes a statement by wearing outfits that break these norms.  They define their style as "non-binary fashion, and trying to make a style where it's not conforming to either and that brings the best part of both worlds, masculine and feminine."