The End of an Era: Coach Fabricius Retires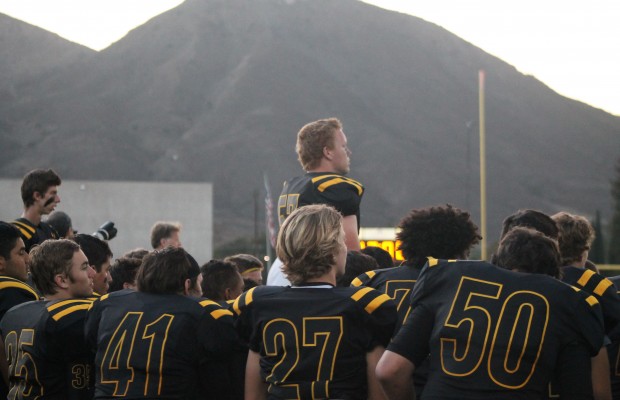 This year marks the end of a thirty-two year coaching career for varsity football's head coach Gary Fabricius – he announced his retirement from coaching after the 2015 season ended, finishing his eight year tenure as head of the program.
As a coach on varsity football, Fabricius won a CIF championship during the 1994 undefeated season, and was also the head coach when the team competed in the 2014 CIF championship game against Paso Robles.
Fabricius started coaching high school sports when he was hired in 1981, which was something that he had wanted to do since he was an athlete in high school.
"I played football, I played basketball, I played baseball and I looked at my coaches and they were teachers," Fabricius said. "They seemed to have fun teaching and have fun coaching and I was like, that seems like a pretty good gig."
When he was hired, he did not have a specific preference of which sport to coach. "I said I can coach football, basketball, baseball, I'll do whatever. I mean I don't know how good I'll be but I'll do whatever." Fabricius said.
He started by coaching JV softball, and a year later he began to coach football. He coached the freshman level for two years, before moving on to JV for two more years. By 1986, Fabricius was the Defensive Coordinator for the varsity level.
"I got to be a coordinator, but unfortunately for me I was on the defensive side and that wasn't where I wanted to be … I like trying to figure how to score, not trying to figure out how not to score," Fabricius said. After a while, Fabricius got his wish, and became the Offensive Coordinator.
Through the years, Fabricius has both won and lost championship games, but to him the best part of coaching was forming a deeper bond with his players.
"You find out that the players believe in themselves and they know what works and doesn't work. So them believing, it teaches you something." Fabricius said.
However, Fabricius has also had some tough moments. "Sometimes you should win and you lose, and that's going to happen. (That) doesn't make it easier. The hard part is looking in the eyes of the player when they're dejected," Fabricius said.
Over the years, Fabricius has given his players many stories and lessons, making sure to leave his mark on them long after the season was over.  
"If we'd come away from a huge loss that was detrimental to the feeling of the team, he would always tell us that football wasn't everything and that you'll lose in football, but you can always win in life," said senior football co-captain Seth Evans.
Shane Sipes, senior and wide receiver, agrees. "He taught me a lot and made my experience with football and unforgettable one," Sipes said.
Now, one of the hardest parts about not coaching for Fabricius will be "at two o'clock not walking across the road and knowing that [I've] got to go to practice," he said. "Probably harder than that will be Friday nights, because that was fun."
Defensive Coordinator Jason Klein will be the new head coach for the varsity level starting next year, and Fabricius will be there, looking on. "I'll go to every Newbury game," Fabricius said.