Track and field athletes launch to new personal records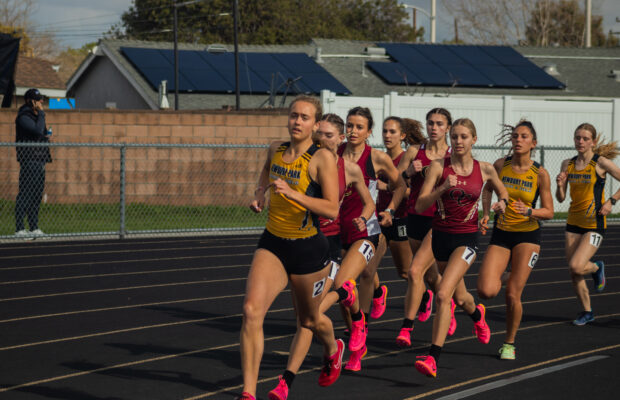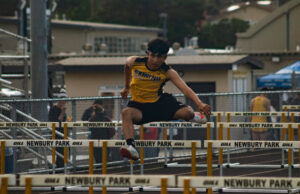 Jump! – Jack Tarascio, junior and hurdler on the team, aims to "finish 110 meter hurdles in 16 seconds and to hold my full sprint for 300 meter hurdles without running out of stamina," Tarascio said. The hurdlers are hard at practice each day after school, hoping to improve their times. The hurdles are a daunting obstacle during races, though the risk of hitting a hurdle can provide an adrenaline rush. Spacing in between each hurdle is also challenging and requires lots of practice. "The biggest challenge about hurdles is three stepping, which is when you clear each hurdle with 3 steps instead of the usual 4 -5, but with practice, it is possible," Tarascio said. All of this training is done in preparation for their track meets, which can be stressful as the competitors wait, anticipating the gun going off, which signifies the start of the race. "You need to take a deep breath, have a positive mindset, and not focus on beating your opponents but instead beating your own personal record," Tarascio said.
Focus! – Arnav Shetty, junior and a long distance owner, hopes to break through the 4:20 mark for the one mile this year, which he aims to do by creating the right conditions for himself to excel during races. "One of the biggest things is getting a lot of water and sleeping a lot more. On top of that, I like listening to music and staying to myself before the race so I can be focused and in the right mindset," Shetty said. Shetty also describes the "runner's high" which helps him relieve stress. "If I'm feeling stressed and I go run, I definitely feel much better afterwards," Shetty said.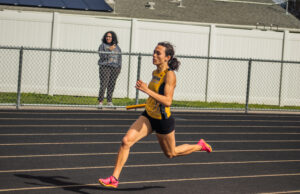 Whoosh! – Kyra Terry, sophomore, a 100 and 200 meter sprinter, hopes to lower her 100 meter time to under 11.9 seconds, and her 200 meter time to 24 seconds. However, this is extremely challenging within the short time frame of a short distance race. "It's hard to get your times to drop sometimes because it's such a short amount of distance. There's not a lot that you can do to make up for if you get a bad start," Terry said. Besides breaking their own records, runners enjoy the social aspect of meets as well as the feeling of adrenaline. "[My favorite part of running short distance is] that it's so quick that you get a rush from it. Also, a lot of people that run sprints are really great people. Everyone's really nice," Terry said. The team practices for 90 minutes everyday after school, in preparation for their meets. Even with all their training, the runners still feel pressure in the tense environment leading up to their race. "It's always nerve racking before the race but as soon as it's over, it's really relieving. But I usually have teammates lined up with me that I can talk to so that helps," Terry said. However, the good relationships within the team and the supportive community allow for an enjoyable experience in spite of the pressure-filled meets.