Life gave Beyoncé lemons and she made Lemonade
If you haven't heard already, the queen of all queens, Beyoncé, released her two part studio and visual album, Lemonade, on April 23. Beyoncé began the Formation World Tour in April 2016 and will be visiting 48 locations in North America and Europe to promote her album.
Be prepared to sit down and set aside an hour to experience an intense movie-like music video. The visual album aired on HBO on April 24, and showed Beyoncé mainly in residential areas in the South, where the singer grew up, with other famous African-American females singing along to the soundtrack. Along with celebrating black female empowerment by having powerful African-American females star in her album, Beyoncé conveys the injustice of racially-targeted police brutality through having the mothers of those, such as Trayvon Martin, who were killed by white police officers without any legitimate reason, hold up photos of their children. As one of the most influential icons of the 21st century, Beyoncé has immense power over the pop culture scene. This makes it all the more gratifying that she chose to use her influence to inform the public about the injustices suffered by many African Americans.
Like a movie, the album follows a plotline with conflict-resolution; it starts with Beyoncé questioning the solidity of her marriage then escalates to anger when realizing her suspicions were proven and eventually unravels to forgiving her husband, Jay Z.
The album contains lyrics implying that Jay Z was cheating on Beyoncé with Rachel Roy, a fashion designer. People have been speculating as to whether or not he actually had an affair or if the pair made the whole thing up for a profit. However, whether the rumors are true or not shouldn't matter, as what's really important is the quality of the music, which is impeccable. Beyoncé explores a multitude of musical genres while tying the whole album together with the central theme of Jay Z's infidelity.
The visual album is no longer available on HBO and can currently only be found available to stream on Pandora, for audio only. The studio album by itself is available on Amazon, and the visual-studio album is available for sale on Tidal or iTunes. Although as a poor high school student who doesn't have money or the ability to convince others that it is worth the money for a Tidal subscription, it is personally upsetting, Beyoncé's decision to restrict the accessibility of her album in order to increase profit sales and promotion of her husband Jay Z's business is a smart economic move.
Although a lack of money is a hindrance to celebrating Beyoncé as soon as possible, Queen Bee still is number one.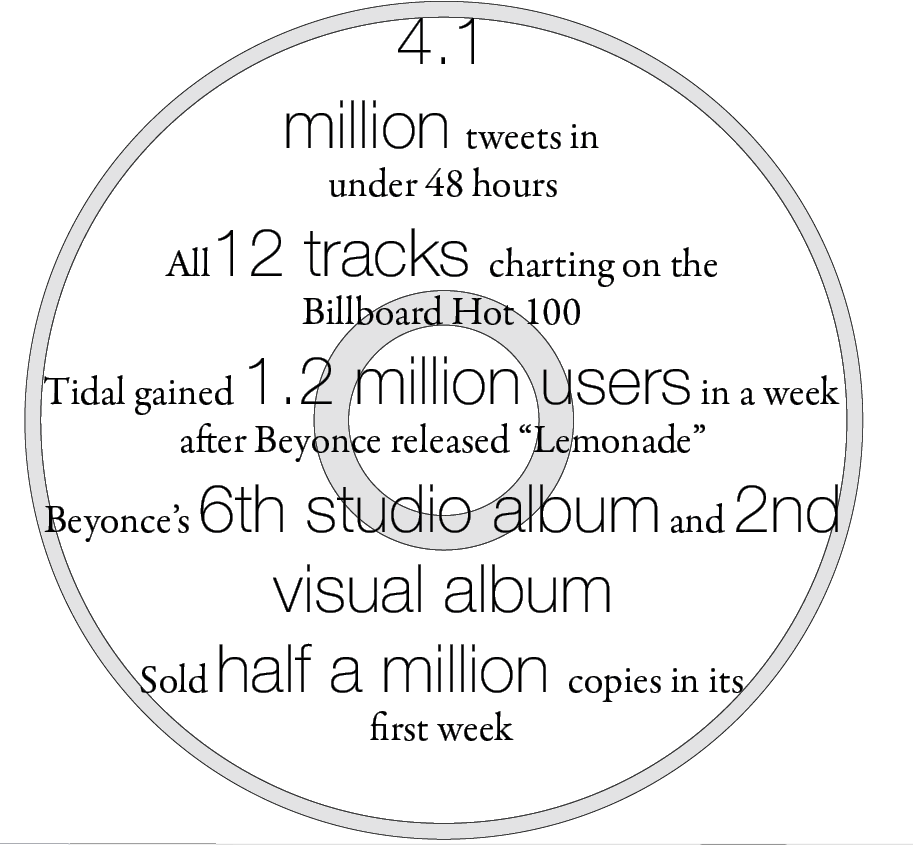 Here is a quick rundown of the tracks on Lemonade:
"Pray you catch me"- This song is a powerful kickoff to the album and the storyline that flows with the visual album. Starting off with pure vocals, Beyoncé edges you into the album with a softer tone to help convey her fear for the sanctity of her marriage.
"Hold up"- One of my favorite songs on the album, "Hold Up," has a more upbeat Jamaican vibe. Beyoncé discovers that her husband is cheating on her and initially responds with a composed comeback.  
"Don't hurt yourself"- (ft. Jack White) Exploring the rock genre featuring my second favorite artist, Jack White, Beyoncé expresses her anger with edgy guitar riffs and harsh tone.
"Sorry"- The lyrics of this song is a clear notification of why Beyoncé is considered the "Queen Bee". Understanding the full extent of Jay Z's damage, Beyoncé holds her head high as an independent woman who does not need to crawl back to a cheater for support.
"6 inch"- (ft. The Weeknd) With a more drawn out RnB beat, Beyoncé mocks Jay Z asking him if it was really worth it.
"Daddy lessons"- Beyoncé goes country? Did she pull a reverse Taylor Swift? My least favorite music genre is country, yet Beyoncé makes the song seem catchy and relatable as she is singing about her own background.  
"Love drought"-This song provides almost an ethereal experience for the listener while experiencing Beyoncé's pain of the distance from her husband.
"Sandcastles"- If you like sad love ballads, "Sandcastles" is the song for you. Completely different from the whole album, Beyoncé displays her raw emotions allowing the listener to connect with her vulnerability.
"Forward"- (ft. James Blake) Only one minute long, "Forward" uses its sci-fi techno beat to explain how Beyoncé is coming around to forgive Jay Z.
"Freedom"- (ft. Kendrick Lamar) A powerful anthem song, "Freedom" represents freedom from social responsibilities for a woman in her marriage while also demonstrating the bigger picture of freedom from racial discrimination.
"All night"- Through this song, Beyoncé tries to rekindle her marriage while staying true to herself and her own musical style.
"Formation"- This was Beyoncé's first song of the album that premiered at the  Superbowl in February and was talked about on social media for the whole week after. It celebrates black excellence through showing African Americans empowered in their natural hairstyles and clothes while teaching the listener to feel comfortable in their own skin. So, feel good about yourself and don't forget to twirl on your haters.