Auntie Mame brings life to the stage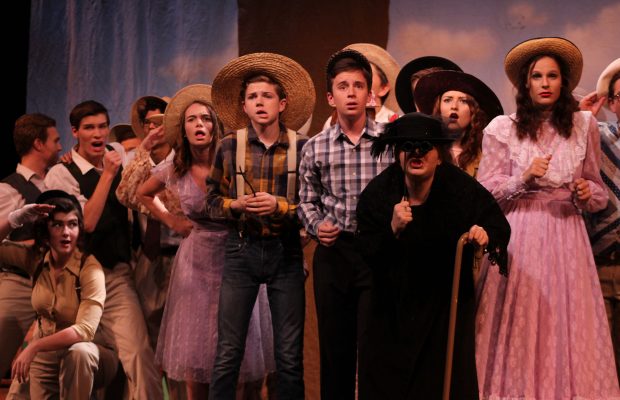 After hours and hours of rehearsals, the Newbury Park theatre cast took the stage for their production of Auntie Mame from April 12-20, telling the story of an eccentric independent woman in the 1920s named Mame, who is left to care for her nephew Patrick after his wealthy father passes away.
"When it came down to the wire we were in the pack for hours and working out everything and all of the complexities, and it was a lot of work towards the end. I'm really happy with what we put on the stage every night," Blair Rocheleau, senior, said.
Rocheleau played the role of Vera Charles, an alcoholic celebrity and Mame's best friend.
Kylie Vincent, senior, played Sally Cato MacDougal. She said that the theatre department was very cramped for time during the spring production.
"Every show goes through a rocky patch and it always smooths out by the time the show arrives," Vincent said. "There is always the question of whether or not the show would be good or not, and in this case it was really good."
Both Rocheleau and Vincent performing in the play due to the tightness of the cast and how fun it was to act with the department.
"We really made our characters unique, that's something that's really special about this play. Every single person is really quirky, really funny and every single person in this play really nailed to their own individual character," Rocheleau said.
Although the Ms. Strange was unable to be there during the production because of the tragic passing of her husband, the cast was able to continue on with the play.
"We went through a lot of trouble with Miss. Strange having to leave because of her her husband passing away, but despite her absence we could make the play and it went amazing, and we're really proud of it," Miranda Barraza, senior, said.
"I loved the costumes personally, the costumes are insane, the costume department did a really good job," Barraza said.
Tarlan Anvari, junior, was a costume designer who helped pick out and design the costumes, as well as help the actors change in between scenes.
"It was really cool to be part of the theatre group," she said, "to be part of something bigger than just one person was just an amazing feeling to have."