Broadway Cares brings community together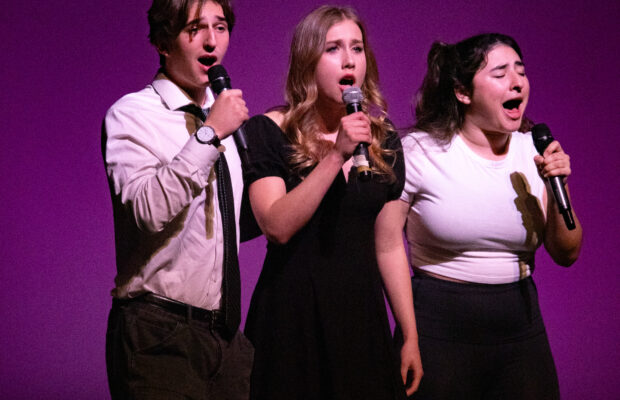 On Oct. 14 in the NPHS Performing Arts Center, many watched their peers perform in the Broadway Cares Cabaret. Broadway Cares, or Equity Fights AIDS, is an organization that collects funds to help people receive medication, healthcare, meals, counseling and financial assistance.
Finding a community in highschool is no easy task, but for many, the Theater program helps them blossom. Makenna Cotton, sophomore and co-host of the production, has been a part of the theater program since freshman year. "It's always been a safe space where I go, and there's people that I know will get me and will get what I'm going through," Cotton said.
Allie Mohelnitzky, senior, contributed in Broadway Cares by performing and singing. To promote Thrive Dance Center, she sang a solo from the studio's Triple Threat Theater Program. "I love how it brings people together for a fantastic cause. We always end up raising a lot of money for Equity Fights Aids and the acts can range anywhere from stand up comedy to ballet." Mohelnitzky said.
Mohelnitky's friends inspire her, especially regarding Broadway Cares. "My second performance was chosen because I have always loved ["The I Love You Song"] and I knew I had two very talented friends that I am very close with that could turn it into something very special," Mohelnitzky said.
As co-host Cotton invited the audience and introduced performers. This was not her first time participating in an event like this, since her passion for theater began in kindergarten. "My mom took me to see this show put on by our local college and then I was just hooked[…]so she signed me up [for theater] and the rest is history," Cotton said.
Chloe Scacheri, sophomore, began theater as an elementary hobby, but soon found a passion for it. In the cabaret, Scacheri sang "If I Were A Bell" from the Broadway musical, "Guys and Dolls." "I've wanted to sing that song for a while, and I feel as though Broadway Cares was a good environment for the song itself," Scacheri said. "The event is a good way to fundraise, while also showcasing the talent of our theater department."
Along with raising money and awareness for the Broadway Cares Organization, NPHS theater helped unify the community to showcase student talent. "I feel like [theater] is so important to who I am now. It's taught me how to be confident in myself, how to be able to be okay being myself. It's a family! So they accept you, flaws and all, and it's just a great community," Cotton said.