Boys' soccer scores another championship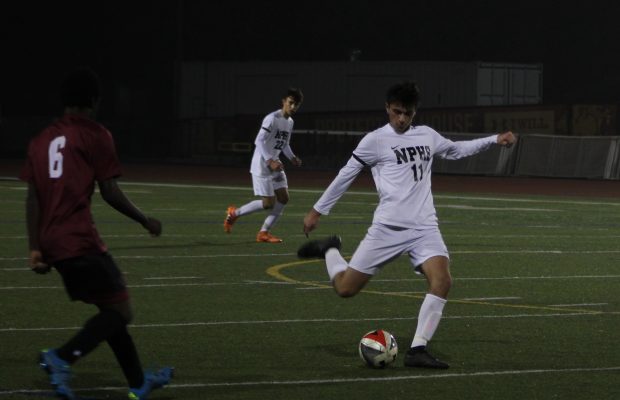 Last year, the soccer team took home the Marmonte League Championship with an outstanding record of 9-0-1. This year, they have kept up that momentum, winning yet another championship, this time with a record of 7-0-1 and a ranking of 64 in the state.  
The team lost quite a few seniors, with their numbers dwindling from 28 players down to 23. Despite this, they were able to pull through, relying on the experience of their juniors and seniors. Luke Varav, junior, was a varsity captain this year.
"Everyone had a key role in the amount of success we had this year, from your goalie and defense to your offense, as well as the coaching staff," Varav said.
Varav scored seven goals this season, on top of 16 assists. He helped lead the team to victory on defense and offense as a midfielder. Varav believes everyone has been giving it their all this season and doing their most for the team.
Unfortunately, the team lost in the third round of CIF against La Habra High School, falling short 2-0 after beating Paso Robles and then Valley View in the previous rounds. This was a tough loss for the players, who knew they could have done better.
"We should have clapped that team; they were not good but we were just unlucky and then to lose on penalties I don't think there was much we could have done about it," Victor Ke, varsity senior, said.
Coach Paul Sanford was very happy with the team's performance, following up last year's undefeated record with yet another, as well as another Marmonte League Championship. In regards to the last game, Sanford was not too frustrated with the loss, as he believes our team was the better of the two and only lost due to bad circumstances.
"I believe our preparation was strong, and we did everything we could to come back in that game, but unfortunately we just did not execute properly during two very small parts of the game that kept us out of advancing," Sanford said.
Coming so far into the season only to be cut by an off-day stung, especially for the seniors on the team, since it is their last season. Ke wishes they could have gone farther or at least had a better loss, but he enjoyed the season regardless.
"The season went pretty well. Obviously we wanted to win CIF, and we totally could have, but things just didn't go our way. But being able to win Marmonte undefeated for the second straight year is always cool and winning so many games was special," Ke said.
The team high hopes for next season, with the strong junior core of the team to return as seniors as well as the current sophomores. Sanford thinks they have a great chance of keeping yet another undefeated record and bringing home a Marmonte League Championship for the third year in a row.  
This year provided a memorable experience for all the players, who played their hearts out and left it all on the field. Back to back league championships with an undefeated record is a monumental achievement that every player contributed to.
"Strengths: Being dope as heck." Ke said.