Boys' soccer season launches onto the field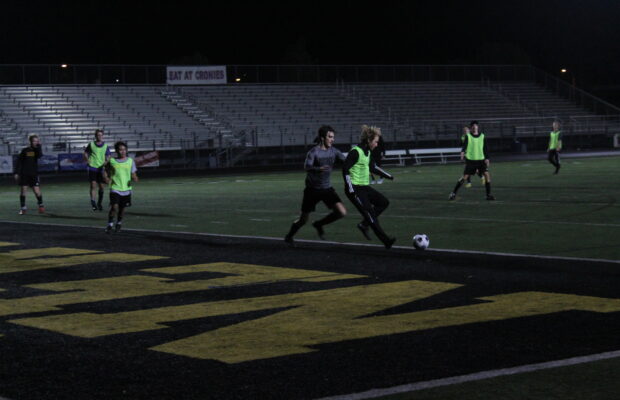 Soccer, or football as it is known in other countries, is one of the world's most popular sports and is played everywhere around the world. This holds true at Newbury Park High School, where the boys' soccer season is now in progress. The boys' soccer team has high hopes for this season after qualifying for and winning their first round in CIF playoffs last year, before losing in a close game in the second round.
Ryan Thorndike, senior and forward on the team, has been playing for nine years. Thorndike has high expectations for himself and has set personal goals to work towards. "My personal goal is to win the MVP award, and if not, score at least 15 goals. Personally, I did well last year but I'm aiming to do better this year," Thorndike said. Lucas Perez, senior and center midfielder also has goals for the season as well. "Personally, I want to get into the first team in Ventura County. I also want to lead the team to win the league," Perez said.
Steven Blanca, junior, played on the frosh soph team last year but now plays striker on the varsity team. Blanca enjoys his position, though he says he also enjoys playing defender. "I like playing striker or defender. I like bothering people. I like having the ball at my feet," Blanca said.
The success the soccer team has achieved and hopes to continue achieving comes with consistent practices, which have been instrumental to the team's wins. These practices take place everyday excluding game days and last one and a half hours. The usual routine consists of a warm up, conditioning, occasional drills, and scrimmages, though it is more oriented around playing than drilling.
Players find the social aspect a key role to success in soccer, where friendships are formed on and off the field. "We're like brothers. We fight together and we lose together and win together. It's like a very team oriented environment. I love it," Perez said. The team finds time to bond off the field as well. "Sometimes we have team dinners or just meet up and hang out. We also talk through Snapchat so we have close relationships," Thorndike said.
Soccer's popularity can be attributed to many reasons. "I would say my favorite part [about soccer] is being able to be free and creative on the field. There's not many times where you're able to be distracted from everything else in your life," Perez said. "I feel like it's a great team work environment, we're able to share a common goal to work towards."
Soccer impacts players' lives outside of the game as well. "It's [soccer] helped me grow as a person and helps me keep my mind off things. It's a sort of therapy for me," Blanca said. Thorndike also shares sentiments about the impact of soccer towards his life. "It's done a lot for me. It's helped me learn leadership, cooperation, accountability, all sorts of amazing life skills. It's like an outlet for the pressures of life, school, everything. I've learned through soccer that having an outlet is important in life and so are all those life skills," Thorndike said.