Choir Goes to Seattle and Brings Home the Gold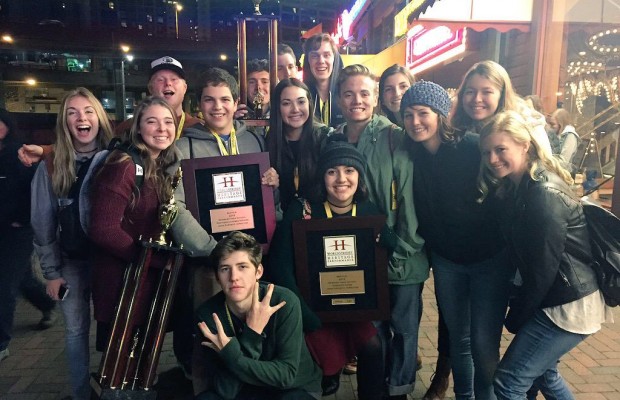 Over spring break, the Men's Chorus, Women's Ensemble, Concert Choir, and Chamber Singers travelled to Seattle to compete in the Heritage Festival. Schools came from Bountiful, Utah; Irvine, CA;  Corona, CA; Montana; and Idaho to participate.
"Every year, we take a trip to one of the Heritage festivals. We alternate years of going by bus or going by plane. For example, this year was to Seattle by plane, last year was to San Diego by bus, the year before last was to Chicago by plane," said Lauren Hohls, junior, member of Concert Choir and Chamber Singers.
Before performing in the festival, the choirs had the opportunity to work with Dr. Boers of the University of Washington, a distinguished choral director and judge. This helped to fine tune the choirs and allowed them to receive some additional feedback before their final adjudicated performances.
"The competition was actually really difficult," said Hohls."There were quite a few amazingly talented choirs there competing against us."
Choirs performing at the Heritage Festival were judged by three professional adjudicators on vocal technique as well as other criteria.
"We won four gold rankings. Three first places for Men's Chorus, Concert Choir and Women's Ensemble, (and) second place for Chamber Singers. (We also received) three adjudicator's awards, and one sweepstakes award," said Hedlund. "The competition was the toughest we have ever had at Heritage. There were 5 awards where we tied with at least three other schools. We were so close to winning overall, we missed the mark … Everyone agreed this was the best group of choirs ever presented."
Regarding their results, the choir students were, "shocked and amazed," said Hohls. "It felt fantastic to have our hard work pay off."
Aside from the fierce competition, the students were able to enjoy the sights of Seattle. They visited the Space Needle, the EMP Museum, Woodland Park Zoo, University of Washington, and the Seattle Aquarium as well as an Underground Tour that showed Seattle's old underground city.
The annual trip also plays an important role in bonding the singers together and in fostering new friendships for the upcoming year.
"My favorite part was being able to hang out and get to know so many of the other people in choir. Throughout the year, we don't get a huge opportunity to just hangout with the other kids, but when we do our yearly trip, we all make new friendships," said Hohls. "Those friendships are the best part by far."
In terms of looking toward the future, Jaggi said that the students are motivated, "to do as well next year as we did this year. I think we've all set high standards for the choir now because we know what we're capable of."
"Winning this many awards helps promote our program. We are always building and trying to grow. Our Men's Ensemble won a gold voting and first place even though they only meet two times a week. We hope for more boys and a stronger class," said Hedlund.
The choir will be having their End of Year Concert in the Performing Arts Center on May 27, 28, and 29 at 7pm.