Elizabeth Ging: running after her dreams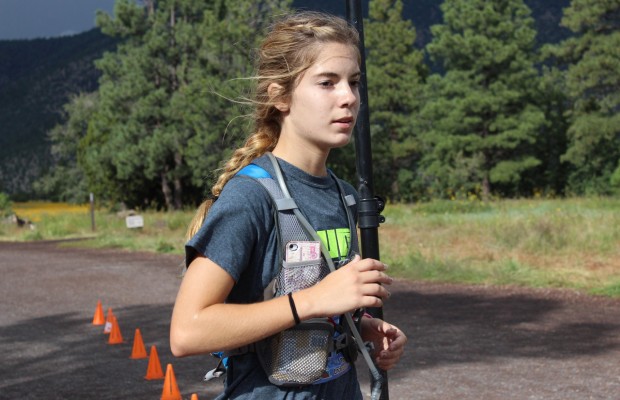 As if running the first eight wasn't enough, senior Elizabeth Ging ran her ninth 50 kilometer race "ultramarathon" on Feb. 7, the latest stride in her running career.
Elizabeth grew up watching her father, Roger Ging, run ultramarathons (races that are over 26.2 miles). When she was 12 years old, they started training together. "My dad is actually the person who got me into this," Elizabeth said.
"Initially, she went on some shorter runs with me, like five miles, and then we started going out in the mountains and doing longer stuff," Roger said. These long runs with her dad led to Elizabeth joining the school's cross country team as a freshman.
"When she started doing cross country, she (also) started doing longer distances," Jenny Kenyon, cross country coach, said. "Our (cross country season) training is too short for her so we (consider) it her 'speed' training for the shorter, faster distance. Then when cross country season ends, she adds a whole bunch more miles and a lot more training. Cross country is like her off season."
Elizabeth spent the cross country off season training for ultramarathons. When she was 15, Elizabeth ran her first ultramarathon. "That's the soonest I would let her, and she was ready for it," Roger said. Elizabeth continued on to run several 50 kilometer ultramarathon races and eventually ran a 50 mile race.
"She's the only one (that runs ultramarathons)," Kenyon said. "Most of my students think the three mile races are just fine."
Elizabeth had originally planned to attend the Shaun O'Brien 100 kilometer race on Feb. 7 in Malibu. "I just wanted to run the farthest distance I've ever run because it really gives you insights into who you are, how much you can push yourself," Elizabeth said.
Unfortunately, toward the end of the cross country season, Elizabeth developed a stress fracture — small cracks in a bone in her foot caused by overuse. "I'm the one that made her go see the doctor," Roger said. "She had to wear a boot for five weeks — basically stay off of the toe that was injured."
"All the times I've been running, all the miles … (my foot) just sort of gave in after a while," Elizabeth said. To be safe, she decided not to run the 100k but instead substituted it with the Shaun O' Brien 50k. For the Shaun O'Brien 100k, her goal was to place in the top four females, which would advance her to the Western State 100k, one of the top ultramarathon races. "I really wanted to get into that, which is a crazy dream, but that was my vision," she added.
After her injury, however, her goal changed. "Of course my goal was pretty high before , but after the stress fracture I think I really just wanted to finish it," Elizabeth said.
The Shaun O'Brien course is one of the more challenging ultramarathons, with an abundance of elevation change. Even injured, Ging continued training on the elliptical to be as prepared as possible for her upcoming race, but avoided exercises that would put pressure on her foot, including running.
"It was extremely hard to not run. I missed everything about it. It made it a little bit easier that I was still working out because … at least I was not completely crashing, but it (was) still difficult," Elizabeth said.
Training for an ultramarathon even without an injury is considerably harder and more strenuous than the typical cross country training of up to eight mile runs. "I would have been doing eight to twelve mile runs on weekdays and probably a 18-26 mile run on the weekends. Sometimes back-to-back from Saturday to Sunday," Elizabeth said. Her typical training averages 10 hours during the week and from four to six hours on Saturday.
Although the boot was a setback, it didn't stop Elizabeth, even though according to Kenyon it was still dangerous for her to run in the race. She got an all clear from the doctor and was able to take off her boot on Jan. 9. The next weekend, she ran the Calico 50 kilometer again, where she placed 4th overall. She finished close to her previous best time of five and a half hours. "I (had) to take it easier otherwise there (was) a chance that my foot could completely break which would put me out for way longer," Elizabeth said.
Although she felt unprepared after being unable to run for so long, Elizabeth finished the Shaun O'Brien 50k in just seven and a half hours, placing 18th out of the 81 female runners. "I was (feeling) surprisingly okay. I was pretty upbeat the whole time and I had a lot of fun," Elizabeth said. "I did a lot better than I thought I would and I did a lot better than previous years."
When Elizabeth isn't running, she is working with Cross Countries, a club she founded to bring cross country programs to third world countries. So far the club has about 10 members. "It's not a lot but its a start," Elizabeth said. "It's an extremely new idea and I'm really excited about it." Part of her plan for Cross Countries is to get major running brands such as Nike and New Balance to sponsor starting up running clinics in the area. Her first step is to create a running clinic for local kids. She wants to build a strong base in Thousand Oaks before spreading it to other countries.
"I want to pass it on to the underclassmen since I am a senior and I want to start (a branch) at the college I am going to … I don't want it to be just a Newbury Park thing," Elizabeth said.
Without missing a beat, Elizabeth is getting ready for an upcoming 50 mile race – one that is on the same day as prom. She hasn't made definite plans about attending the prom yet. She hopes to run a 100 mile race this November and a 100 kilometer race next spring.
Elizabeth has plans to continue running in the future and hopes to pursue a career in athletics. "I want to be either a coach or a personal trainer," Elizabeth said.  "Hopefully I can start to competitively run ultramarathons and get into some of the bigger races like Western States 100 and Hardrock 100."