Pickleball swings into action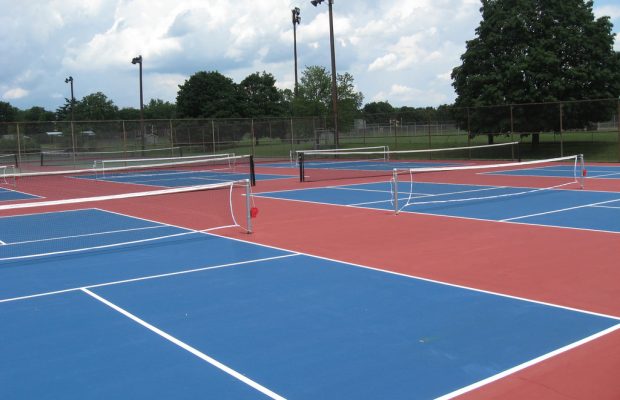 Some students take interest in fast-paced games such as tennis or basketball, but others prefer a slower type of game. Pickleball offers that slow gameplay as well as a little intensity.
Contrary to popular belief, pickleball does not actually involve pickles. The game draws many similarities to table tennis. A paddle is used to hit a ball over a net to have it land inside the boundaries on the other side of the court. The opponent is expected to return the ball back in the same fashion.
Pickleball is played with paddles on what looks like a small tennis court. The sport is mainly played by older people, but some students have taken a liking to it.
Elan Tenenbaum, freshman, was brought into the sport when he saw some people playing on a cruise ship. Later on he learned of a group of about 20 to 30 older people that play at Rancho Conejo Playfield every Tuesday and Thursday. He may be one of the youngest players there, but that does not stop him from having fun.
"Everyone who's played has enjoyed it," Tenenbaum said. "It's not ultra competitive and it's just to enjoy ourselves."
There is no organized league or tournament. There is no trophy or reward involved. Compared to club sports or leagues, this is a more leisurely type of  play that is meant only for the fun of the game.
"Unlike other games, pickleball takes one quick learning session to have you up and playing. With clearly defined court lines, off areas and in zones, there is a true simplicity to the game," Ari Tenenbaum, Elan's older brother, said.
The physical education department does offer a section on pickleball, but it is brief, only lasting a single unit in which students experience the game only four to five times. Once students are introduced to the game, they can go out and practice by themselves.   
"Just like any sport, the more you go and try it out you can see if you can like it or not… There are definitely people that enjoy it," Chris Soury, an Physical Education. teacher, said.
He also advocated pickleball as a great sport to play later on in life, which is all the better reason to pick the sport up soon.