Reaching the top: Tara McKeown trains from AYSO to the US National Team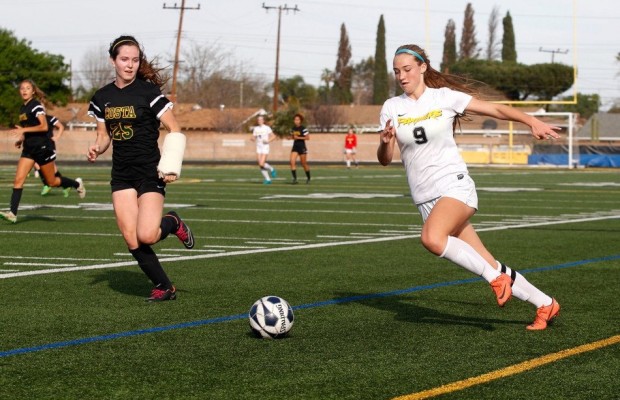 In the United States, football captures the hearts of millions of fans, but for the rest of the world, soccer is what it is all about. Events such as the Euro Cup or the World Cup cause thousands of fans all over the world to tune in and watch. Tara McKeown, junior, and forward for the girls varsity soccer team, has the potential to accomplish her dream of one day playing in front of those thousands of fans.
After her senior year of high school, McKeown will be heading to USC on a soccer scholarship. This year, as a varsity captain, McKeown earned the Marmonte League Offensive Player Of The Year award and was nominated to be the Daily News Player Of The Year. Her success has come after years of hard work.
McKeown's dreams of playing soccer started early in life. "When I was three I started playing AYSO. It was really fun," McKeown said. She played AYSO soccer for four more years, until the age of seven.
"When I was seven I got recruited by my first club coach," McKeown said. She was recruited by Real California Soccer Club, and it was her first taste of playing the sport at a higher level.
A few years later, Real California merged club teams with Eagles Soccer Club. "Our clubs merged with Eagles and so I had no choice but to go to the Eagles. They were our rival team, and I wasn't very happy," McKeown said.
Although at first McKeown wasn't happy on the new team, she began to meet new people and enjoy working with the team.
"Tara provided strong leadership and was a solid role model for the younger players on the team. I love playing with Tara," said Kristina Krehbiel, senior, who began playing with Tara on the Eagles club team a few years ago. "Playing with a player like Tara makes everything so much easier because she understands the game so well and can make so much happen when she gets the ball. She's the type of player you want to surround yourself with," Krehbiel said.
The pair not only played together on the Eagles club team, but also on the girls varsity soccer team this past season.
McKeown went to Westlake High School for her freshman year and played soccer there. "I didn't really like the whole school, so I came to Newbury Park," McKeown said.
Mckeown joined the varsity team after transferring to Newbury Park during her sophomore year, and has been playing for the school ever since.
Tony Cortez, who coached McKeown during her sophomore and junior seasons at Newbury Park, holds her in high regard. "She has the ability to take a game over and recognizes when to do so. She is an amazing talent, has excellent work ethic and sets a great example to the team," Cortez said.
The girls varsity soccer team made it to the CIF Section Semi-Finals for the first time this year, and hope to expand upon that accomplishment next year.
On top of high school and club soccer, McKeown was also invited to play for the United States Women's National Team. She was first recruited to try out for the National Team in eighth grade and has been training with them since.
As she prepares for next year's season, the sky is the limit for Mckeown. "She deserves all the good things going her way," Coach Cortez said.