STUNT flips into season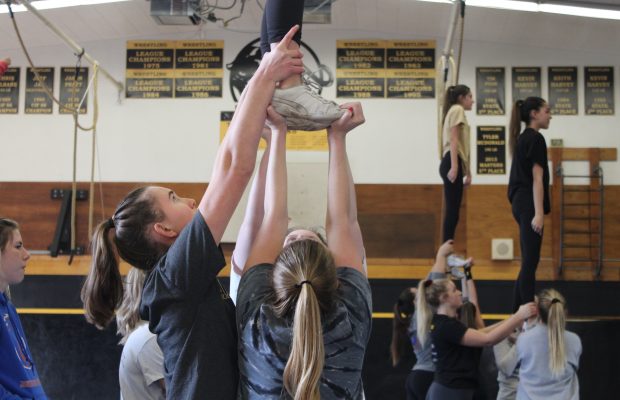 Despite being a relatively new sport at NPHS, having been established only three years ago, STUNT has already found success, earning the title of Marmonte League Champions last spring. This year, STUNT is establishing a team for the upcoming season. Tryouts for the team took place on Jan. 7, 9 and 10. Although STUNT attracts many members from cheer, the two sports have significant differences, according to the Kaleigh Coffman, coach and ASL teacher.
"Traditional cheerleading has a lot to do with performance. We don't have to perform, we need to be technically correct. We need to do exactly what they ask of us and be as safe as possible," Coffman said. This is Coffman's first year as the coach of STUNT.
Many may be unaware of what STUNT actually is. Competitions, or games, involve a series of set routines each team has to perform. Performances take place over four rounds, and those with the most wins out of four win the game. Madeline Janisse, sophomore, has a simpler explanation of STUNT. "We basically throw and catch other girls and make some cool routines," Janisse said.
This will be Janisse's second year doing stunt. "Freshman year I tried out for STUNT because I wanted a new experience and my friends were trying out as well, and then from stunt I moved into spirit cheer and I've been doing it ever since" Janisse said.
Haven Roper, sophomore, discovered stunt through cheer. "A lot of my friends had done it from cheerleading so I thought it would be a fun experience to do with them," Roper said.
The STUNT season only lasts three to four months. Janisse enjoys the team aspect. "I like the teamwork because I've never been on a team sport so it was a good new experience," Janisse said.
Roper also values the relationships built through cheer and STUNT. "I really enjoy the community aspect, all the girls are so nice and it's just a great environment to be around," Roper said.