Yearbook introduces new features for 50th Anniversary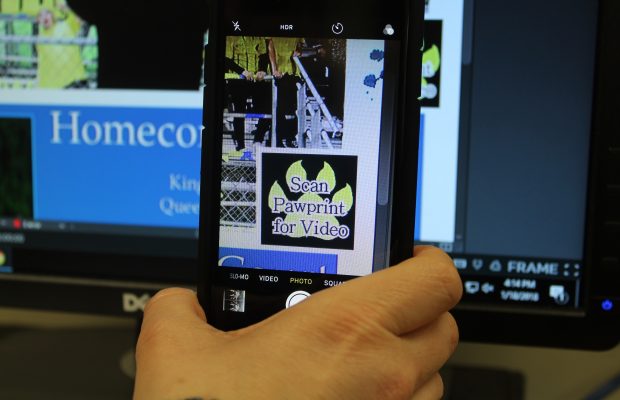 Celebrating the 50th Anniversary of the famous Pawprint Yearbook, yearbook staff decided to add new features from their yearbook provider, Josten's, for students to enjoy when the year comes to an end.
"Josten's has this feature where you can put an indicator over a photo, and then you can link that photo to an aurasma," Michelle Saremi, Pawprint and Panther Prowler adviser, said. An aurasma is a digitally-enhanced way of viewing an image.
"You take your phone and scan the picture with the indicator and it is going to link to a video that we linked to the aurasma account through Josten's, and then it pulls up the video on Youtube," Saremi said.
Because the indicators within the yearbooks can access videos taken from any time throughout the year, footage from Panther TV can accessed for the school to see.
"They have great coverage of (the) homecoming game and prom, which is something we don't get to cover in the yearbook because we have to submit our pages before then. So we can put an indicator and still cover prom," Saremi said.
"We have been talking about it for a few years because it is the latest yearbook technology, these are what the really good yearbooks are doing. It's a lot of work though, because you have to make sure you get the film, and we personally didn't have any video cameras, so that's why working with PTV is really good for us," Rachel Grennan, senior and yearbook editor-in-chief, said.
Derek Grimes, video production teacher, who also runs Panther TV, is using the new feature to bring in new and old footage made from students for the Yearbook.
"I think this shows that our yearbook is really thinking outside the box. The whole staff is thinking outside the box and doing things to make the yearbook a lot more interactive and not just a book where you just flip pages," Grimes said.
"We think it's a really good way to provide a better recall of the event. We can only get so many pictures and videos are awesome for covering it, like football games and stuff," Grennan said.
Adding this new feature to the yearbook allows more students to become involved and aware of important events covered throughout the year.
"The staff is doing such an amazing job, which is a relief. We have basically an entirely new yearbook staff," Saremi said. "And when you have a new staff, the cool thing about it, they have a lot of new ideas."