Zemo Rhodes speeds ahead of his goal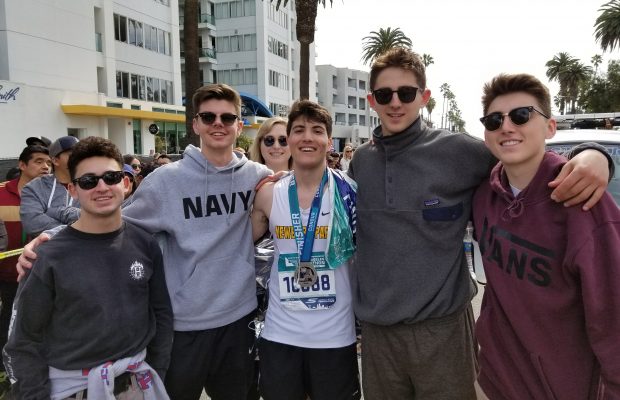 As he makes the final turn onto Ocean Ave., his heart races and his legs feel heavy. He has already finished 26 miles and has 0.2 to go. He thinks to himself, 'just keep running' because he knows the pain he feels in the moment cannot topple the gratification of finishing the marathon under his goal time.
After running for fun, Zemo Rhodes, senior, joined the cross country team last season as a senior. At the end of his season, Rhodes decided to train for the Los Angeles Marathon.
"My experience (on the cross country team) was great. I had so many supporters and made amazing new friends," Rhodes said. "They really helped me become a much better runner, physically and mentally."
On the team, Rhodes established a friendship with fellow runner Ethan Ronk, junior. Rhodes and the cross country team bonded instantly, and Ronk attributes this to Rhodes' "genuine personality." When describing his friend, Ronk said, "He's just that guy you want to be around … he is a hardworking, driven, yet entertaining guy."
His experience on the cross country team allowed him to prepare his upcoming runs, including a 30 kilometer race and a marathon. Rhodes and his father come up with his workouts each week in order to train.
Rhodes has dedicated the past months to training for the Los Angeles Marathon. He chose to run five to seven miles after school each day and 12 to 15 miles on the weekends. His rigorous preparation would not be successful without the support from his friends and family.
"My cross country friends are really supportive and they know I can do it. But a main (supporter) is my dad. He has been my inspiration really throughout this whole year of my running career. He's my coach. He's my mentor. He's just great," Rhodes said. "I always look up to him and ask him for advice for the running plan and he gives me great mental help to train my mind to know that I can succeed."
Rhodes' friend since third grade, Jack Rousseau, senior, has been supporting him and his dedication towards the marathon as well. "I think it's cool because he is really passionate about running. It's a goal he set for himself, so I'm happy that he's pursuing it and dedicating time and energy to it," Rousseau said.
Rousseau even decided to take some friends and wait for Rhodes at the finish line during his race.
When Ronk heard that Rhodes was training for a marathon, his initial reaction was "that I was super pumped for him, (and) I knew it was something he could accomplish and would do quite well."
Rhodes has learned to find a love for running by using it as a form of mental relaxation. "Not only is it great exercise, but it clears the mind. It's a great meditation because you are out there for so long, it's just you and your mind," Rhodes said.
Rhodes's goal for the race was to break four hours. After the big day, March 18, Rhodes finished the marathon with a time of 3 hours 48 minutes. His friends and family eagerly awaited his arrival at the finish line.
"For about eight months now, unknowingly, I've been training for this marathon– ever since I started cross country. Day in and day out, I put in a lot of work to achieve this goal, and it definitely paid off," Rhodes said.
Colin Cremault, junior, was proud of Rhodes's time and effort during the marathon and had been giving Rhodes support throughout the journey.
Cremault never doubted that Rhodes would succeed in his conquest. He believes Rhodes's motivation for running was the major key. "I think he did so well simply because of his motivation. From the few months I ran and trained with Zemo, he was always a go-getter: pushing himself in workouts and making us do harder trails," Cremault said.
Training with rigorous preparation, Rhodes finished his first marathon within his first year of running. He carries motivation to continue to push his running to the next level.
"I would (participate again) because the experience is so fulfilling after you are done because you know you have accomplished it. I think I'm going to do longer races than a marathon, like 50k races, and just keep pushing myself to my unknown limits," Rhodes said.