Take a look into the lives of the fastest high school runners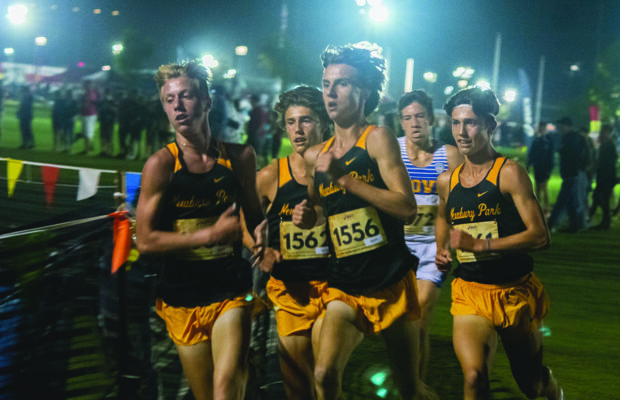 The average mile time for a high schooler is 7 minutes, but for Colin Sahlman, senior, running a mile takes no longer than 3 minutes and 58 seconds. Sahlman is one of many national superstars that make up the NPHS track team. Running alongside him are the nation's fastest twins: juniors Lex and Leo Young. However, their lives do not begin and end with running; these champions balance their extensive training schedules with their regular lives, filled with hobbies and passions.
Colin Sahlman is a household name at the top of all race leaderboards. Sahlman's consistency and perseverance has driven him to become the number one high school runner in America. His talent has helped him overcome half the battle, but the support from his family has pushed him all the way to success. "It is a great feeling to know that they have my back and will fight to help me get the best opportunities," Sahlman said.
Growing up, Sahlman learned to love running by racing his dad. "Back in middle school my dad and I would go for runs and race at the end to see who would win. At first he used to beat me but after a while I caught up and he couldn't catch me. I believe this helped me with some of my speed," Sahlman said.
Also able to balance their training with their own interests are the Young twins, who have taken the running world by storm. Lex and Leo Young have spent their running careers setting faster and faster records. Their close bond with each other has allowed them to reach their fullest potential. "We are always competing against each other and pushing each other to reach for greater heights. It's a really positive relationship that's helped us both succeed. Me and Leo are also pretty much always together," Lex Young said.
However, the twins' lives revolve around more than a race clock. During middle school, the twins became interested in photography and filming. They started their Youtube Channel "L&L" in 2016. "[It was] just an excuse for us to use a camera because we always loved cameras, and we just wanted to get better at shooting and editing," Lex Young said. Six years later, and the twins have over 22,000 subscribers, who have watched their content grow from middle school vlogs to Nike sponsored reviews.. "You get to feel like you have a bit of a voice. The fact that if I tell them they're gonna listen, it means a lot because then I guess I feel like I get to help them, and that's pretty cool," Leo Young said.
In their free time, the twins enjoy spending quality time with their parents. "We eat dinner together every single night as a family…There's always been the importance of [family], that my parents have stressed, as we've grown up, we like to do activities as a family, whether that's like day trips, or seeing other family like cousins or grandparents, we just definitely enjoy hanging out as a family," Lex Young said.
Though Lex and Leo Young's older brother, Nico Young, a well-known runner, who has set multiple records, is away attending NAU, the twins visit him frequently. The brothers have many fond memories growing up with their big brother. "When we were younger, Nico was a bit of a dictator," Lex Young said, "I remember one time he was starting to get obsessed with Harry Potter, so he went online, and he found this PDF of spells that you can do in Harry Potter, and he printed packets, and he tried to make me and Leo memorize all those ones and fight each other. He'd always win the battles though."
Running is a big part of these runners' lives, as they spend most of their time training at a high level of excellence. However, the importance of family and their other passions will always be the other crucial part of their lives.