Celebrating Halloween in boo-bury Park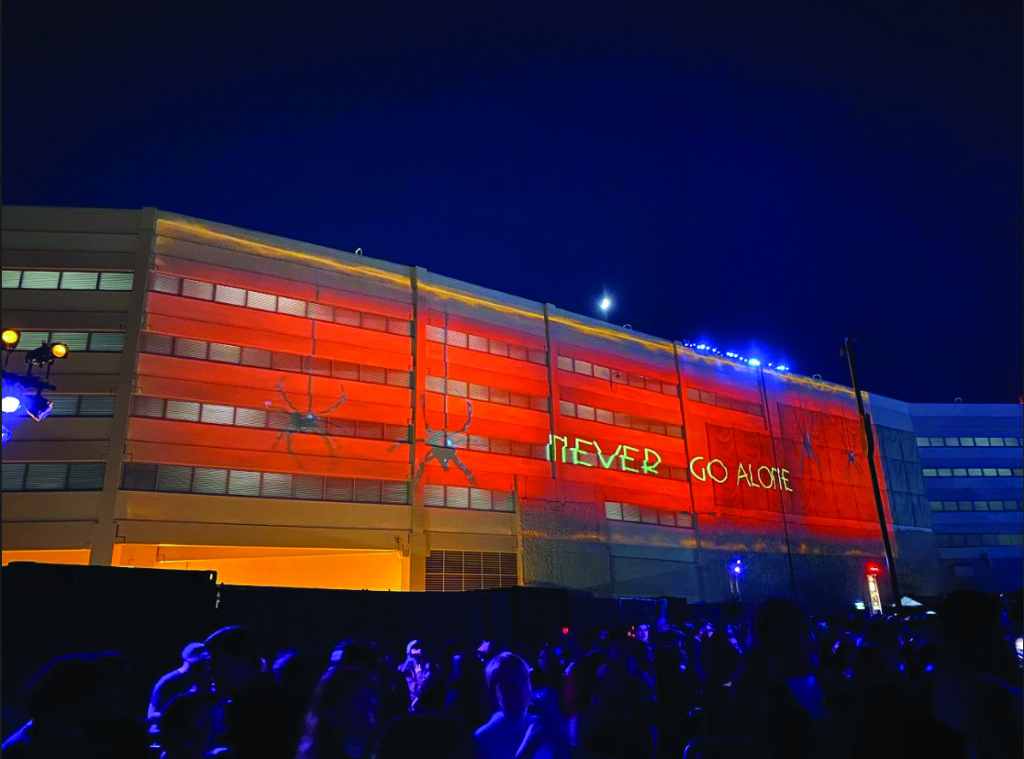 Universal studios Horror Nights
In an effort to continue cleverly marketing off of human beings's incessant obsession and joy with being scared, Universal Studios Halloween Horror Nights, takes advantage of the warm October nights and turns the amusement park into a cohesive, exciting and thrilling seven hours each night.
As someone who enjoys those moments in a horror movie when the camera zooms too far into the main character's space and the viewer is only able to see the character's paranoia before, of course, the character wildly turns around to be scared out of their mind by a terrifying creature of some sort, I looked forward to Halloween Horror Nights.
Here is how the night works: as the clock strikes seven, actors dressed as clowns, dolls, demons and anything else creepy, walk towards you in the park as you venture off for your first activity of the night. Personally, I found this to be one of the most exciting parts. Walking through that area of the park simulates the feeling in which you never know if you are actually safe because any time you turn your back, a zombie ballerina with a knife might stab you. As thrilling as it is, it is slightly overwhelming especially since the actors tend to target those who outwardly express their fear. For example, if you run, be prepared to have that clown and his chainsaw run after you. Barring the fact that the actors cannot actually touch you, I would consider this particular part to be decently scary.
After walking through the roaming horror characters, in the upper lot there are a couple haunted houses of attraction. I went through the "Chucky: Ultimate Kill Count" house. Before I explain my experience in the house, I waited in line for 50 minutes which was relatively not bad to the lengths the line hit later in the night (three hours) but it did require a lot of self-entertainment. The house itself was about four minutes and the props, design and setup were incredible. The house is filled with turns and twists, each new room either with wax humans and blood oozing out or the occasional rooms with jumpscares. My experience in Chucky was nowhere close to my experience in the "Stranger Things" house, with a 55 minute line. For one thing, Chucky did not have many real actors jumping out which was unfortunate since those are the scariest parts, but also the Stranger Things house lasted much longer. On the lower lot, down the four long escalators, the Stranger Things house was probably the scariest one we went in. Roughly six or seven minutes long and filled with jump-scares, I have to admit I screamed a lot in that house.
One of the most memorable parts of the park was the Tram tour, "Terror Tram: The Exterminatorz", an approximately twenty minute experience where the Tram drops you off at this closed off site and you walk through the equivalent of three houses. The majority of the "houses" are bug themed, which terrified me as someone who screams when I see a spider. The last walkthrough features actors in red jumpsuits who seem to be possessed or part of mental asylums. They would stand extraordinarily still until you got too close and then almost stab you.
Overall, considering a decent amount of rides remained open, and the incredible sets and actors, I would rate the park a 9.5/10. My only criticism would be the long lines but that seems inevitable with the allure of horror in the park.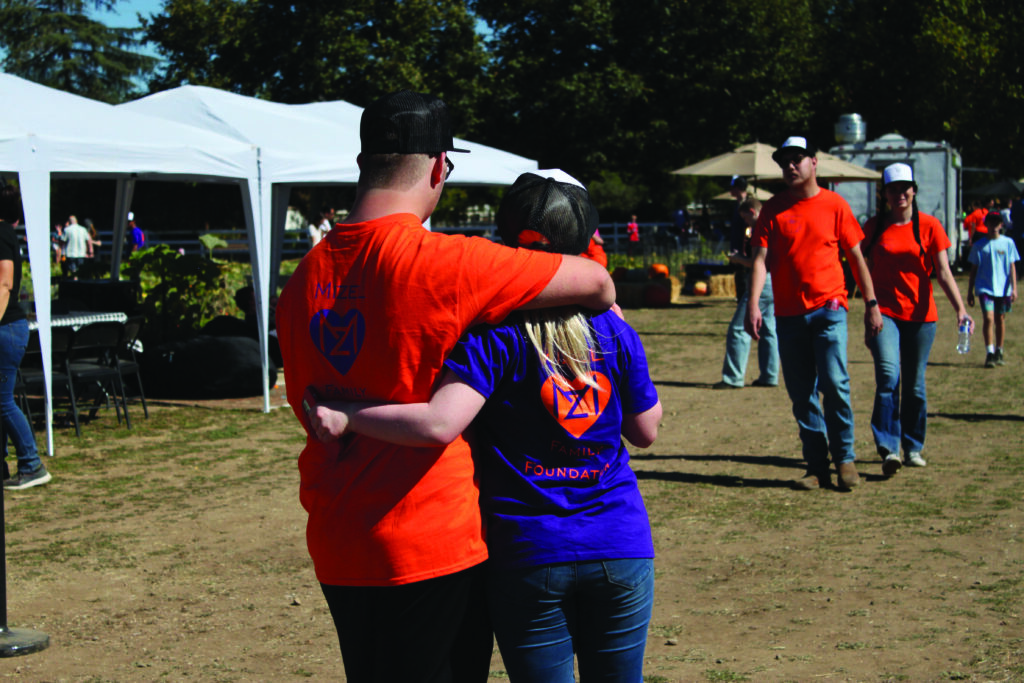 Hug – Many NPHS National Honor Society members, students from the theater department and athletes from the wrestling team volunteered alongside pumpkin patch professionals on Oct. 21 to help bring the Mizel Family Foundation's dream of a collaborative pumpkin patch that provided uniquely-abled students opportunities to work a multitude of different jobs. Isabelle Cipriano/Prowler
Pumpkin Patch
Most consider the winter holiday season the most giving time of the year, however, local venders, as well as groups at Newbury Park High School have been able to contribute to the community year-round, including Halloween. One such event took place at the Mizel Estate Foundation, where there was a pumpkin patch and a haunted house everyone could visit for a fun-filled day.
Dating all the way back to June, Mizel Farms has had a plethora of different volunteers from many groups around Thousand Oaks eagerly preparing for and anticipating the final event that took place on Oct. 21. After originally planting the pumpkins months ago, volunteers were excited to watch the plants grow, knowing that upon their harvesting, all of their hard work would pay off when they were able to see the faces of the countless families picking out their future Jack-o-Lanterns.
One of the groups that participated was Newbury Park High School's very own charter of National Honor Society. Anne Alvarez, NHS advisor, recognized what a great way the pumpkin patch was for NPHS students to get involved and in a variety of ways. "We pair [NHS members] with uniquely abled students, and they're going to be selling pumpkins, they're going to be scaring people in the haunted house, and they're going to be working some of the booths there with their buddy. There'll be greeters, and there'll be cleanup. Basically anything and everything that there is to be involved with," Alvarez said.
Many students, including Lindsay Freedman, senior and NHS historian, jumped at the chance to help the Mizel Estate Foundation, as she recognized the many contributions that the foundation has previously made to both the school and the area. "I think it's a really great event. And they put on and because they're so inclusive and what they do and they do give so much back to the school. I think there really is no downsides to it and it just unites the community and kind of unifies us as one," Freedman said.
Emma Lindroth, junior and NHS member, also volunteered at the pumpkin patch, and said it had a positive impact on her. "This event inspired inclusivity in our community and allows people to be more involved. This event was a great way to meet and connect with people…[it] really brought so many people together," Lindroth siad.
In the many months preceding October, the Mizel Family Foundation began reaching out to local businesses who would be willing to sell their products, while at the same time providing possibilities for students with unique abilities to help out. Noelle Dreher, owner of The Dream Rowe, a jewelry business, was eager to participate. "I think my favorite part was seeing how excited the kids got and just sort of cheering them on…And that just was a wonderful part of the day, just seeing them enjoy themselves was my favorite part of the event," Dreher said. "I think anytime we treat anybody with a disability or special needs, just like human beings and the way that they deserve to be treated, it is a huge impact for anyone involved and it should be done more often…Everybody deserves to be treated with respect and be given the same opportunities and that's the impact."
In addition to being an exciting environment with live music, a taco truck, and several small businesses that were able to sell their products, the pumpkin patch provided students with unique abilities and opportunities for employment. Bobbie Rich, the Mendziel Family Foundation Art Director, noted how much the event has taken off since previous years, and how beneficial it is to the community. "The purpose of the event is to provide meaningful employment to young adults with unique abilities. So, while so many high schoolers [here] today are volunteering, the pumpkin patch professionals all have unique abilities and they all are hired for the day so they are being paid on wages to be here and to practice with us and to plant the seeds for the pumpkins," Rich said.
Overall, the event was an astounding success, and had many lasting impacts on the community, not only spreading Halloween spirit, but also spreading awareness to Thousand Oaks about the capabilities of the special needs community. "[The event will]l really help our high school community come closer to the other [uniquely abled] students and make it more inclusive. It'll help the general community because they'll come out and see that students with disabilities can and will do things that are valuable to the community, and it also gives the Mizel estate some recognition for what they do because they do a lot for special needs students," Alvarez said.
Decorations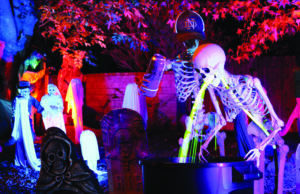 Hurl – A skeleton helps another skeleton feeling sick after a couple drinks on the lawn of Amanda Balice and Ryan Sanford. Their residential neighborhood becomes a seasonal hub for spooky decor and creepy animatronics. "We love Halloween," Sandford said. "It's our favorite holiday of the year, and we like spooky stuff, we're fans of horror movies and big set ups." Balice's favorite decoration of theirs is the Michael Myers mannequin looming over neighbors through their upstairs window, but she loves all of them. "I've been collecting [decorations for 15 years], [my favorite set up are the gravestones] When I was looking at houses I really wanted a big yard so I could do a Halloween graveyard because I love Halloween. That's how I started the collection, the gravestones," said Balice. The couple have made plans to continue their elaborate house next year and for many more to come.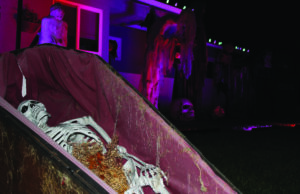 Lazy Bones – A realistic coffin with an unlucky set of bones can be found in the yard of Nicholas Bell. Bell has been in the decorations game for a while, saying, "We started ten years ago, living in Ventura we started doing a graveyard scene, very small." However, after their move to Newbury Park, he was able to expand the operation. "Each year we stuck with the graveyard scene, because I think everyone's come to expect that…I think they kind of look forward to it every year as well. This house gets a lot of attraction, and we have to typically start in the middle of August," Bell said.
Jack Attack – "Prowling Jack" is the latest animatronic for Roger Prince's Halloween decoration collection. "I like Halloween, it's for the kids! My favorite part is when you walk in you see spiders and skeletons right above your head," Prince said. Prince is a self-proclaimed veteran of Halloween decor challenges. "We've been doing it for 13 years…We're giving out the big bars!" Prince said.
Facial hair should be banned from trick or treating by Brody Sinutko
There I am, enjoying my Halloween night, watching "Scooby Doo" cartoons armed with a bowl of candy ready to pass out to the neighborhood kids. Just as the "Scooby Doo" villain was being unveiled, the doorbell rings. Although I was immersed in the show, I begrudgingly paused it, "it is for the kids," I thought to myself. I grab the bowl ready to sling out candy left and right and I rush to the door, not wanting the trick-or-treaters to bail on my house as their candy prospect. I opened the door without looking through the peephole, a mistake. I was expecting a couple of polite children with their parents, but I could not have been more wrong, as a group of obnoxious eighth graders showed up in front of my house. The look on their pubescent faces seemed as if they were demanding that I give them candy. I noticed their bags were filled with enough candy to clog the arteries of a fully-grown humpback whale. I knew I had to put an end to this, lest these squeaky-voiced brats rob the candy from all the young kids pulling up to Fallbrook Ave. I could have handled the situation by berating the miscreants, but upon thinking it through, I decided that yelling would worsen the situation. I instead decided to let the acne-ridden twerps win. However, I got the last laugh by only giving them the worst candy, Almond Joy. The rule for me, which should be implemented on a state level, is the "Facial Hair Rule": if you are old enough to grow any sort of facial hair, you are banned from Trick-or-Treating.
This is not all terrible, however, while the end of Trick-or-Treating may seem the embodiment of a trick, a sign that the universe is forcing you to grow up and discard your past. But, it is better to reflect on all the great memories gained along the way as a treat, as the end is what gives it meaning; similar to life. That is why the end of Trick-or-Treating sparks a sort of death of childhood innocence, and makes one have to acknowledge their own mortality. I live life based on the Trick-or-Treat mentality, I will live, I will die; however, I can choose to remember the wonderful and crazy, the "treats" I have gained, and to reflect on memories I have experienced, right up until the curtains close and I look like a real-life Halloween costume.