Dance for Hope brings together community and cultures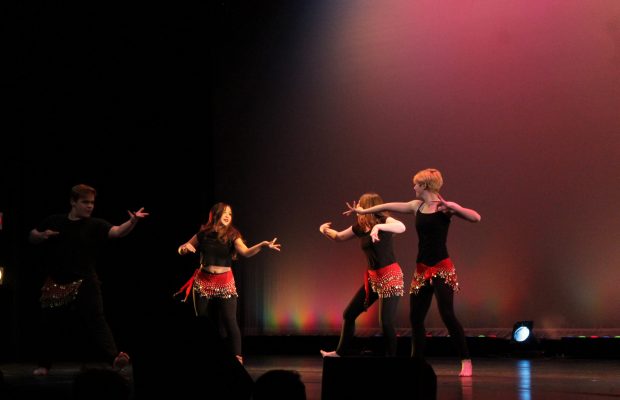 Students and community members came together on Feb. 23 for the annual Dance for Hope performance, held by the Interact Club. The dancers performed everything from traditional African dances to Zumba to tap. This year, the concert had increased significance as the dance was dedicated to the memory of English teacher Sandra Rayl. To honor her memory, students prepared a slideshow and a performance dedicated to her.
Amiya Prasad, junior, was in charge of the organization of the dance. "I decided to take charge of Dance for Hope because I am passionate about helping my community, and I was introduced to it last year. I wanted to make the event even more successful because I gained a lot of knowledge doing it my sophomore year,'" Prasad said. She started planning the event in Nov. of 2017.
Even with all the planning ahead of time, Prasad found herself slightly overwhelmed on the day of the actual dance. "There were a lot of things that needed to be done, such as checking (the) audio, food, tickets, decorating, and making sure all the dance companies were ready to perform," she said. "The most challenging part of organizing Dance for Hope was making sure everything ran smoothly on the actual night."
Hannah Dembla, senior, chose to participate in Dance for Hope because of her family history of cancer. Dembla, along with Jubal Rancourt, senior, choreographed the Bollywood routine, which was the closing performance of the concert.
Dembla and the 17 dancers who were in the Bollywood dance held weekly Sunday practices. "(Rancourt and I) would first talk everything out and teach/work together on being content with our choreo," she said.
Priya Setty, junior, was one of the dancers in the Bollywood dance. "I decided to do (Dance for Hope) because I've always been a dancer and I really wanted to make use of that to contribute to a great cause," Setty said.
Dembla also encountered obstacles in the process. "The most difficult part of (Dance for Hope) was teaching the others the dance and making sure we were all in sync," she said. But, at the end of the concert, Dembla was pleased with the final result. "My favorite part of Dance for Hope would be the performance because it was an amazing feeling to see the end result and what our vision for the dance turned out like," she said.
Setty enjoyed all the friendships that came from the experience. "My favorite part of (Dance for Hope) is meeting all the people in it and becoming so close to them," she said.
For Prasad, the highlight of the dance was honoring Rayl.  "I felt like it added a more personal touch to why Interact holds this event every year," Prasad explained. "We are trying to bring together different communities, and what better way is there than remembering the life of someone who impacted many people."