Mercado Guadalajara takes home the best burrito in town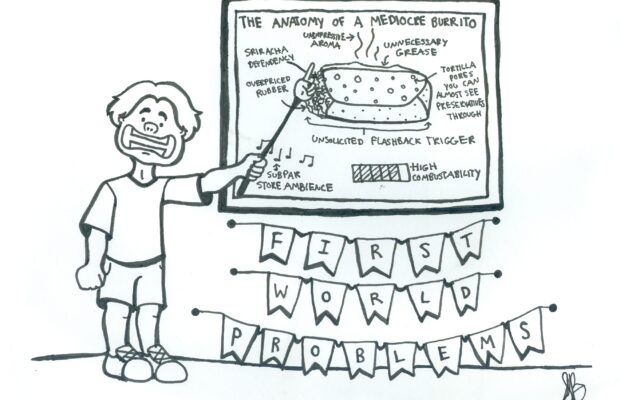 After trying the signature burrito from six Mexican restaurants in Newbury Park, I have come to the conclusion that "Mercado Guadalajara" takes the throne. I can attest that burritos are not just food, but can fix life issues. No-one should be eating a mediocre burrito, and "Mercado Guadalajara" delivers quality burritos.
In my hunt for the best burrito, I stopped by Three Amigos, a go-to for many NPHS students. When I visited, I was immersed in the pleasant, appealing Mexican aesthetic. I ordered their signature "Three Amigos Burrito." When I grasped the burrito, I was pleasantly surprised to see a nongreasy and well-structured burrito, and upon cutting it open it seemed quite appetizing. However, when I inhaled a deep waft of the burrito's scent it did not have much to offer in terms of the aroma. This was a real letdown as the smell is a key part of a legendary burrito. In spite of my hopes, the steak lacked flavor and texture. The worst part of it all, I was charged an extra two dollars for mediocre steak. I enjoyed the rice, as it was the most flavorful aspect. However, the segregation of flavors was a big red flag for me. Overall, "Three Amigos" is like a Drake album– overhyped and mediocre.
At Taco Bell, I wasn't expecting much, however, the $4.39 price tag pleased my budget. To my disappointment, the poor tortilla craftsmanship was prominent with minor blowout issues. I bit into the "Burrito Supreme'' loaded with typical burrito ingredients, however, none of them were solid; rather, the texture was more akin to a smoothie. I was hit with an artificial but undeniably delicious flavor. Taco Bell tastes delicious, but the lack of quality comes with drawbacks.
When I entered the "El Sancho Loco Taqueria " The colorful dazzling lights that grazed my peripheral created an exciting atmosphere. Before I ordered this burrito, my expectations were high. The cross-section of their signature burrito was promising, the aroma made me quiver in the glory of this $17 burrito. After that first bite, I reached burrito nirvana. However, this short moment would be cut by the devastating blowout that amounted to one bite. Like a Kanye album, this burrito is a masterpiece at first glance, however similar to Kanye, this burrito fell apart just like his career.
The night I visited Ruperto's, I was horrified and the burrito brought me back to the trauma of my parent's divorce, as we could only afford $1 microwave burritos. I had to add Sriracha just to continue eating because this $13 burrito was cold, uncooked, and dry.
At Sharky's, I was delivered a solid burrito. This burrito was packed with ingredients and made me feel healthy. The health factor reassured me about my life choices, as over the course of my "research," I surely have packed on the pounds. Sharky's makes a fine burrito, however, the atmosphere is lacking as the only music playing was Maroon 5, which disappointed me because I'm pretty sure Adam Levine is not Mexican.
The Mercado Guadalajara, a gem in our community that truly deserves the win. The interior is filled with the delicious smell of slow-cooking meat. The people in the store are friendly. The Mercado's environment made me feel as if I was in a different country. When I bit into the "Burrito Regular", I knew it was the winner; this burrito out-classed the other burritos. Its fabulous tortilla, tasty rice and beans, mouthwatering steak and their salsa tied everything in the 11-dollar burrito.
There is no other burrito in Newbury Park that outshines the Mercado Guadalajara. Their burrito hits the nail on every point that factors into a great burrito in its atmosphere, quality and affordability. In my opinion, there is no other burrito joint that you should visit.