Pat Phelps bids a tearful goodbye to CVUSD school board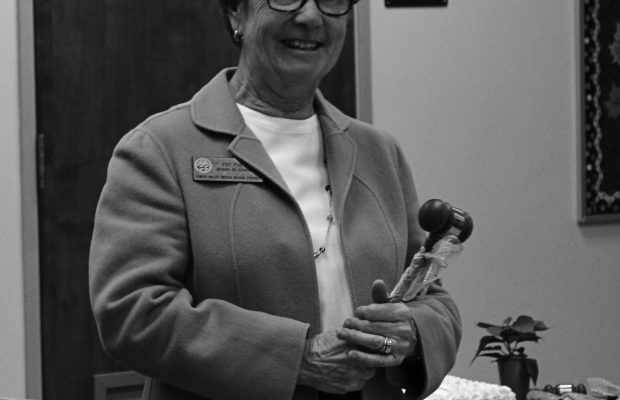 After serving as a trustee on the CVUSD school board for over 20 years, Pat Phelps sat at her final meeting on Dec. 4. A celebration of service ceremony was held in honor of all three members leaving the board: Pat Phelps, President John Andersen and Trustee Mike Dunn, although Dunn was not present for the festivities.
Pat Phelps' active participation in PTA and site council led her to follow the School Board Trustee career path. At the time, as a parent with kids in the district, Pat Phelps saw a board of retired teachers and felt that a parent would provide fresh perspective.
She uses three words to summarize her experience as a seasoned board member: interesting, rewarding and fun; "Sometimes a lot of fun, sometimes not so much fun." She remembers a difficult period for school boards across the nation – the recession – as source one of the more memorable and impactful experiences she has had. The board had proposed budget after budget to combat the detriments of the time, and time after time were unable to please all walks of the district.
Noticing increasing polarization and indecision within the district, Pat Phelps proposed the creation of a budget committee to tackle the task. "We got together representatives from all different factions and I think it proved to be what saved the district as we went through the recession," Pat Phelps said. "Everybody sat at the table together, everybody felt they had a voice and I think it was one of the best things I did as a board member."
It was Pat Phelps who, outside of Barnes and Noble one day, suggested that now ten-year Trustee Betsy Connolly run for the board. "She got me into this whole thing and she was always a source of kindness, always knowledgeable and caring and reassuring and never had to grab the attention but always there to help out," Connolly said. "She's served under a lot of different superintendents, she's worked on hiring a lot of people and that 'seen a lot' makes for a steady leader."
At the ceremony, many community members and loved ones gathered to see the seasoned board members off. Amongst them was Pat Phelps' husband, Barry Phelps, who claimed that being married to such a woman is "an honor and a privilege."
"She's unflappable under pressure, very reasoned in her thinking. She's someone who wants the data, the facts to understand, is capable of taking emotion out of a decision and thinks about what's best for the students," Barry Phelps said.
Pat Phelps recognized the past couple of years as unordinary; "Having kids come (to board meetings) because they were really concerned about what was going on in their classrooms was a good example of what poor discord does for the district," Pat Phelps said of the recent board polarity. Never before had she seen so many students attend meetings. She advises that the future board members have commitment and concern for all of the kids in the district.