Hands on Earth educates the community with staggering trash and recycling research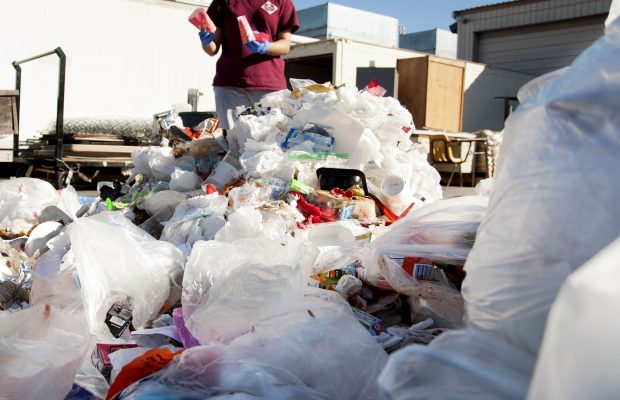 "It's estimated that the average individual creates around 4 pounds of trash per day, which adds up to nearly 1,500 pounds of trash per year," according to recyclenation.com.
On Oct. 20, the Hands on Earth club met at the high school in order to kick off their trash audit event.
Katie Rose, senior, attended the event with her friends who are also in the club. "We wanted to collect data on the percentages of recyclables that go into the trash and vice versa and how much compostables are in the trash," Rose said.
Hands on Earth hosted the event in order to supply viable information for the grants that the club plans on applying for to create better trash and recycling programs at the school which would improve the environment and actually save the school some extra money.
Suha Hussain, senior and club vice president, shared the eye-opening reality of the event's results. "We basically went through 40 trash bags…and sorted it into paper, cardboard, compost ales, recyclables (like) glass, cans, plastic and trash," Hussain said.
Since the event was a bit short on people with an overall person turnout, the club reduced the sample size of their data to 15.
"We weighed the contents of each category. Daria (Azizad) and Clare (Wang) ran some statistical tests on our data and found that around 60% of our trash (is improperly disposed)," Hussain said. By weight, about 41 percent of the trash was actually recyclable and nearly 9 percent was compostable.
Tommy Joseph, senior and member of Hands on Earth, attended the trash audit to support his club in their endeavor to uncover where our waste truly goes.
Joseph found that collecting data from the event was a tedious but necessary task. "I saw compost, a lot of uneaten food, a lot of waste from school lunches. The majority of the waste I saw could have been repurposed if we had the proper means of doing so. We just need to invest more money and resources," Joseph said.
Hands on Earth worked to recover 501.4 pounds of trash the day of the trash audit. They additionally found that a staggering 92 percent of waste in recycle bins was actually trash, leaving only 8 percent of the waste to actually be recyclable material.
"We can use the data and its results to develop strategies to increase recycling which is better for the environment and will actually save our school money," Rose said.