Coachella headliner creates an ocean of controversy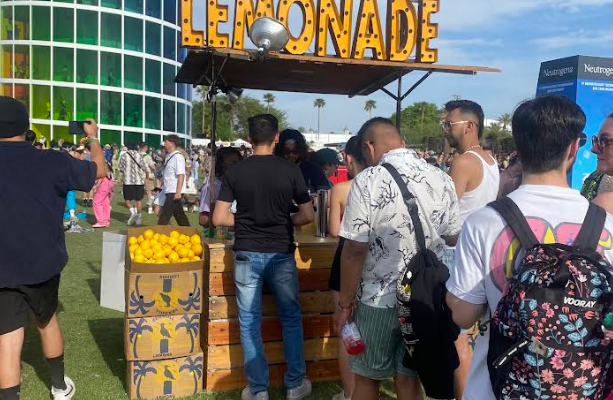 Since 1999, Coachella has been supplying music lovers with a space to see hundreds of their favorite artists over the course of just three days. The music festival began its first weekend of excitement on Fri. April 14 and concluded a week later on Sun. April 23. With a lineup of the most trending and talented artists every year, this year included names like Bad Bunny, Boygenius, Kali Uchis and, after a hiatus of six years, Frank Ocean.
Gracen Mechling, junior, attended the music festival for the first time and was left stunned with the bounteous amount of music lovers and performers that showed up. "There were a lot of people there. We actually ended up looking at how many people walked in and it was like 250,000 thousand people a day…It was obviously a lot of fun," Mechling said. "We loved Metro Boomin and all of the people he brought out like 21 Savage, Future and the Weeknd because it was just such a surprise. It was so cool that he like took time out of his performance to showcase his friends and other rappers.
When Frank Ocean was announced as a headliner for Coachella, fans were eager to attend in any way they could, especially since he would be returning after a six year hiatus. PJ Cool-Tomasi, a long time fan of Ocean, saw first hand just how dedicated the artist's fanbase was. "I set up like an hour before [he started], but there were people waiting there from like 12PM. His set was at 10PM. People were waiting there for hours just to get barricade for him," Cool-Tomasi said. "The crowd was getting super big. Everyone was like super stoked because he hadn't performed in years. The energy was there, everyone was freaking out."
When Frank Ocean finally walked onto the stage, his performance was met with mixed, controversial reviews. Ever Irate, junior, had no complaints and was simply happy to see her favorite singer live. "I wasn't disappointed at all. I was just so excited to be so close to him in person. I've listened to a lot of unreleased songs and unpopular songs and it was super cool to hear those live as well," Irate said.
On the other hand, a majority of the fans expressed their disappointment, including Cool-Tomasi. "We were waiting and waiting, and then he comes out like an hour late…for some reason there were like 8 minutes between each song which was really weird. He also had no stage presence. It just wasn't doing what I thought it was going to do," Cool-Tomasi said. "At the end, he was like 'ok so that's curfew, show's over.' Then he just left and didn't say a word. Nothing."
Other than the Frank Ocean debacle, those who attended still found themselves surrounded with a high-energy, inviting environment. "Everyone was happy. There really seemed to be no problems. It was like all great people and I felt safe, and it was genuinely just such like a cool and unique experience," Mechling said.