Speech state qualifications hosted on campus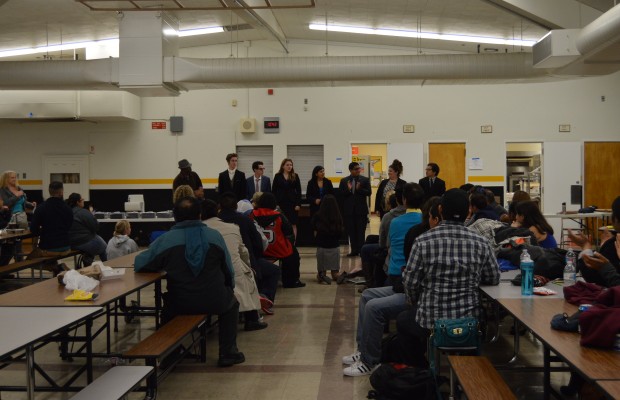 Newbury Park High School hosted the Tri-County Forensic League's Individual State Events Qualifier on March 4-5. With 26 schools in attendance, this was the largest speech tournament of the league and the biggest event ever hosted by NPHS's speech and debate branch, which is relatively new and small compared to other branches.
"We were asked to host the state quals because Burbank High School normally hosts state qualifiers, but their facility was not available," Miharu Altmire, Speech and Debate Club adviser, said. "We knew that last May, so we were asked if we would host, and that's how we got this opportunity."
"I can drive here two days in a row instead of having to drive to Burbank or some other far off school," Amy Jiao, senior, added.
The state qualifications event determined who would go on to the 2016 California High School Speech Association's State Tournament in mid-April at Mission College. Students were qualified to participate in it if they had participated in at least one open tournament in the season before.
"Since this is the state qualifiers … most people compete," Sabrina Thai, senior and Speech and Debate club president, said. "It's when competitive people come to mark that they're the best. It's the best display of everyone's performances."
Club members took on the responsibilities of managing the logistics of the event, which was from roughly 5-10 PM on Friday and 8 AM – 9 PM on Saturday. Profits from student food sales were used as the club's main fundraising source for the year.
"It's two days, so it's a lot of prepping for making sure there's enough food for everybody, getting permission from teachers for classrooms and rearranging desks, we have to get posters up so everyone knows where stuff is, and we need volunteers to basically run the event during the whole thing," Thai added.
This year, Jiao and Wu were the only participants from the NPHS team in the event, speaking in Impromptu and Oratorical Interpretation categories.
"In impromptu …I have to make a five minute speech that I made up on the spot with only two minutes of preparation," Wu said, "and for oratorical interpretation I (take) someone else's speech and (perform)it myself with my own interpretation."
Both Wu and Jiao have experience in competing in Impromptu for the past few years.  
"I was going to do a set speech but after seeing as how I'm trying to remember everything for IB tests, I decided against trying to stuff my head with extra information that I was going to forget anyways," Jiao said. "Impromptu is really easy in a way because you don't  have any kind of prep and you can make up anything on the spot."
Through judged performances in preliminary, semifinal and final rounds, 70 participants came out on top and were officially qualified to go to the state competition. Although neither Jiao nor Wu were able to go on to the next round, they enjoyed the experience of their last year.
"(We) made a lot of great friends with really hilarious and charismatic people," Wu said.  
This was also Altmire's last year and big event with the Speech and Debate Club, as she is moving away the next school year. She has advised the club for the past four years of its existence, and has helped guide students and volunteered as a judge for both speech and debate tournaments.
"This is probably the last club I would've advised. I wouldn't have said I'll do speech club myself, so it was really serendipitous how everything happened and I'm really glad it did," Altmire said. "I learned a lot from just watching go through the process of learning, writing and practicing speeches and debates."
"She's really dedicated to the club….I just don't think the club will be the same without her," Wu said.
Speaking their Minds – Parents and students look on as students from across the Tri-County Forensic League gather in the cafeteria to collect awards. They competed in two days of rehearsed and impromptu speeches in the Speech State Qualifier. Victoria Juan/Prowler