Students take unconventional and conventional routes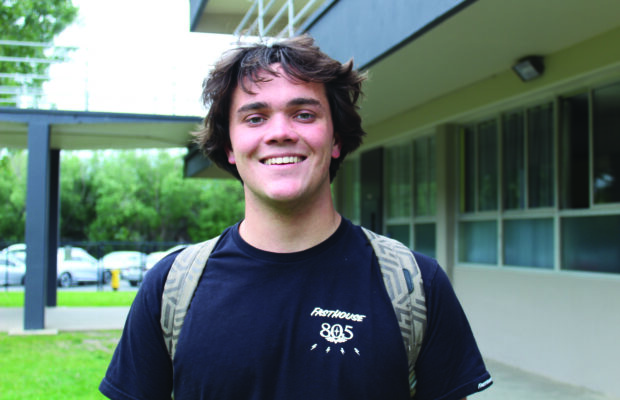 Hex Weak, senior, is planning on entering the National Bartending School in Thousand Oaks this fall. Weak is pursuing her interest in bartending and mixology, inspired by her brother. "It Started with my brother because once he turned 21 He got into different kinds of drinks, so I got curious about it. I started following like certain bartenders on Tik Tok and like, seeing them make these fancy pretty looking drinks seemed really fun. So I got my own bartending kit to start practicing making drinks at home," Weak said. This passion helped them figure out what their plans were in life. Weak was also never interested in the conventional college route, which provided the perfect opportunity to explore their passions. "The idea of college has never really been that interesting to me. I knew I wasn't going to enjoy it so I've spent the past few years thinking of stuff that I would enjoy doing," Weak said. For those still in high school, Weak recommends research into what they want to do in life. "Definitely start researching early. I have a lot of things that I need to catch up on because it's a whole long textbook that I was given, and there's a lot of things you have to memorize. So it's much better if you start practicing and start memorizing early on rather than doing it like a year before you go," Weak said.
Jonathan Golmon, senior, is planning to start a business after high school to pursue his passions. Golmon, who was always uninterested in a conventional path towards college, always wanted to start a business. "I always knew I didn't want to go to college. I always tried to find a way to make money without going to college. And then this year, senior year, I figured out exactly what kind of business I was trying to do," Golmon said. Golmon is planning on starting a business in real estate arbitrage through airbnb with a friend of his. In order to get his business off the ground, Golmon is looking to work more jobs. "So once I graduate, I'm going to go out and look for two more jobs. I already have one job. So I'm going to work three jobs and make a good amount of money to invest," Golmon said. For those who may be uncertain of what the future holds for them, Golmon advises to just follow their passions. "I'll say, do whatever you want to do, whatever makes you happy. Whatever you dreamed of doing, just because you don't think you can achieve it doesn't mean you shouldn't try to achieve it because you probably can," Golmon said.
Inspired by his hobbies, centered around the water, as well as his interest in search and rescue, Ryan Stotser, senior, is looking forward to graduating and joining the U.S. Coast Guard. "If I wasn't involved with water polo, I wouldn't have been involved with lifeguarding or any other like aquatics so I think that definitely led me down this path," Stotser said. Although he doesn't know anyone else joining the Coast Guard, Stotser embraces his decision proudly, as well as all the uncertainties that come with it. "I have no clue where I'm going to be in a year's time. Who knows where I'll be stationed around the country. So just adapting to the new environment will be different because I've grown up in this area my whole life. I'm open to it though, but it'll be hard to adapt, especially if it's the other side of the country," Stotser said. Before going off to the Coast Guard, Stotser has some advice for everyone still in high school: "Don't be afraid of other people. Just be open to new experiences, try new things. And don't let yourself get in the way of what you want to do," Stotser said.
Though she was accepted to multiple 4 year colleges, Francesca Hartmann, senior, chose to attend Moorpark College and transfer to a 4 year after completing Moorpark. "I was getting charged an international tuition due to the fact that I'm not an American citizen. I don't think going into so much debt is worth it at all, so that is what made me choose Moorpark," Hartmann said. Hartmann will major in biology to pursue her goal of becoming a surgeon, fueled by her interest in human anatomy and passion for helping others. Attending community college comes with its perks too. "I'm saving all the money that would be spent in two years of tuition and living expenses, there's no need to worry about finding roommates or alternative transportation," Hartmann said. Hartmann looks forward to a different schedule, more driving and more independence. She also hopes to travel more and start a medical apprenticeship program. Hartmann is looking forward to graduating and to her future. "While [high school] was a good experience, it was very stressful academically and I'm ready to start a new chapter of my life overall. I'd say it's bittersweet because of all the things we're also leaving behind but it was great while it lasted," Hartmann said.
Cameron Scacheri, senior, recently decided to attend Moorpark College this fall, instead of studying automotive technology at Pierce Community College. "I had a conversation with my counselor and boss, and realized it's very difficult to make money in the trades, and since I want to be well off, I decided to take the most conventional route and go for stability," Scacheri said. He has been working at Bavarian Performance Specialists, a car repair shop, as he is interested in the automobiles and is also working on his own project-car. However, he plans to go back to the automobile business if going the psychology route at Moorpark College doesn't work out for him. While Scacheri enjoys learning, he feels that the educational system doesn't fit his needs. "I think we need to have more focus on specialty areas, so if you have an idea of what you want to do [after high school], you should be able to start learning that topic earlier on," Scacheri said. Though Scacheri disliked school, he would advise other high schoolers to "do your best while you can and stay on top of your work. You should do your best to get good grades even if it doesn't feel necessary or you don't want to," Scacheri said.
In fall of 2023, David Kwon, senior, will be attending Princeton University to pursue a degree in operations research and financial engineering. "II chose to aim high with Princeton because their financial aid is really good. So I thought that I would still be saving a lot of money as opposed to if I went to another four year university by choosing Princeton because as from what I'm aware of, they have like the highest amount of endowment per student because they have less students and other schools that have a lot of money donations as well " Kwon said. Kwon has been interested in pursuing a degree in financial engineering since he took an economics class earlier this year. As he starts school at Princeton, he hopes to continue pursuing his hobbies."I think I plan on keeping mostly everything I do the same, especially music. I'm really passionate about music, so I hope to keep playing. I hope to join the Princeton University orchestra with clarinet," Kwon said.