The girls' golf team swings into action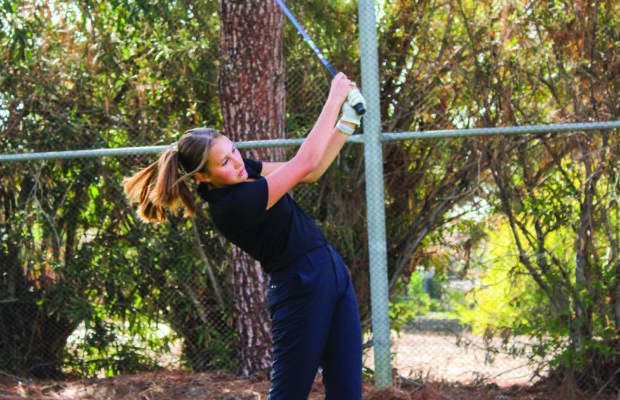 The girls' golf team has worked tirelessly throughout the past few months to increase their capabilities and improve their results.
Greg Ropes, head coach of the girls' golf team, spent his adolescence playing multiple sports, until he ultimately found golf to be his calling. Since then, he has been coaching boys' and girls' golf for 30 years. "My favorite part about coaching golf is the relationship with the team. These young ladies here, they're super, they are fun to be around, something's always happening," Ropes said.
Before performing, athletes have to work hard to develop a positive attitude because during a round, they have to rely on themselves. "You have to do it all yourself, you have to call a penalty on yourself and be your own coach, your own psychiatrist. You have to solve all your problems, no one can help you," Ropes said. "[Golfers] learn how to solve problems. It forces them to grow up."
Kelly Brecker, senior, is a varsity athlete who joined the team her freshman year after hearing about it from a couple of friends. Over the past four years, Brecker has become close with her teammates and hopes to achieve that again next year on a college team. "I consider [the team] to be pretty close. We bond over humor, and we bond a lot like if someone has a bad stroke, we kind of just laugh at ourselves," Brecker said. "We bond over the highs and lows of playing golf."
Some people find their passion quickly in life, and Kambria Mastro, freshman, is no exception as she fell in love with the sport at 6-years-old. She believes that golf is a lot more than what meets the eye, and is often under-appreciated. "There's actually a lot of skill involved with hitting your shot. Your swing has to be really good and you have to be consistent; it's really not just about trying to hit the ball," Mastro said.
The girls' golf team is driven to work hard and support their teammates despite the turmoil they have faced through various complications. They often exceed the expectations of a high school athlete by practicing regularly on their own."The girls look at their scores and say, 'Well, I want to do better, so I have to go out and do something about it,'" Ropes said.