Water polo focuses on regrowth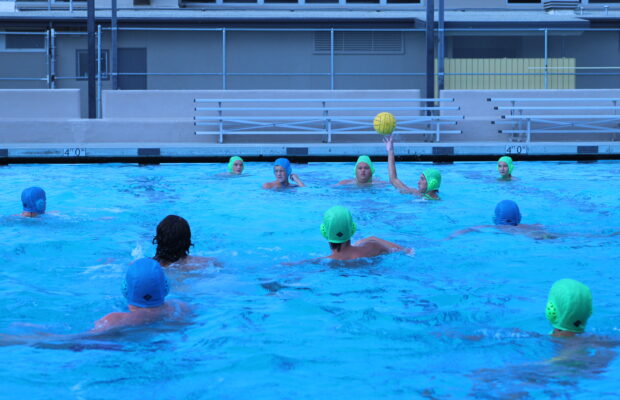 Though this water polo season was very different that the season prior, Newbury Park High School's boys water polo team maintains its sense of community. The team graduated 15 seniors last year and are currently working toward rebuilding their program and training their newer players.
Chet Hardy, the head coach of Newbury Park water polo, is proud of the hard work his team put in this season. "One of the highlights of this season is watching these boys commit to the team… and continue to fight everyday" Hardy said. Hardy recognizes that being new to such a competitive sport can be difficult, but is pleased with his team's growth this season and is optimistic about the team's future in the next few seasons.
Team captain Carson DaKroob, sophomore, has been playing water polo since he was 11-years-old. Dakroob acknowledges the difficulty of rebuilding a team after the loss of many experienced players. "[I'm] spending this year trying to get all my players up [to their full potential]," DaKroob said. The team currently consists of sophomores, juniors, seniors and two freshmen, all of which are working together to rebuild the program and set their team up for a successful season next year.
Sebastian Laubner, sophomore, understands the challenges of not only playing on a younger team, but starting the sport for the first time as well. "It's going to be hard the first month and a half if you're brand new," Laubner said. Training new players is a responsibility that more experienced teammates help out with. "[I've been contributing by] working my hardest and just trying to improve myself and others on the team," Laubner said.
Cole Eisenbraun, senior, has been playing water polo for five years and is pleased with the way the season is wrapping up. Though last season the team won more games, this year, they grew close as a team and players improved a lot this season. "The entire team has gotten a lot better," Eisenbarun said.
Water polo had their last game on Thursday, Oct. 26. The team has grown a lot this season, becoming both better at water polo and more united as a group. "One of the highlights of the season is watching the boys commit to the team, commit to the group and commit to the philosophies here, and watching them continue to fight every day," Hardy said.