Becoming a Bruin: Ian Eschenberg will play volleyball at UCLA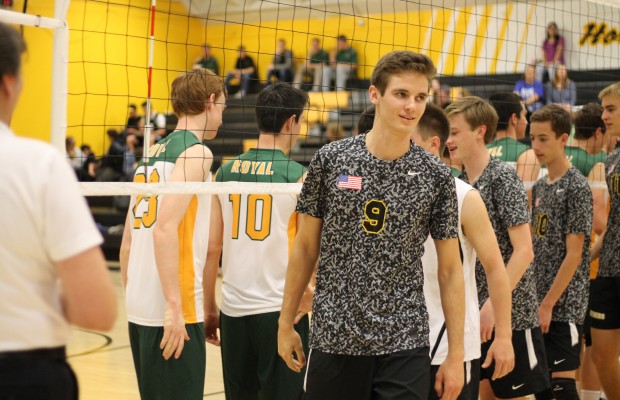 After playing four years on varsity volleyball, Ian Eschenberg, senior, was recruited to the UCLA Bruins volleyball team as an outside hitter.
"Towards the end of club volleyball season [January]  UCLA invited me out to check out the campus and watch the team practice. After they expressed their interest in me and mine in them, they offered a spot on their team to me," Eschenberg said. He officially committed to play for the school at the end of January.
Eschenberg began playing volleyball after watching his older brother, Zach Eschenberg.
"My older brother Zach was definitely my biggest motivation to start playing volleyball. He started playing and as a very inspired younger brother I started playing as well," Eschenberg said.
Jorge Ostrovsky, head coach of Boys' Varsity volleyball, remembers the two brothers playing together.
"(Ian) made the varsity team as a freshman.  He actually was his older brother Zach's backup," Ostrovsky said.
Ostrovsky has seen Eschenberg progress from freshman year to senior year.
"I started coaching Ian four years ago. He's the epitome of 'the harder I work the luckier I get'," Ostrovsky said. "It's not an accident he was recruited by many schools."
Eschenberg played for Sequoia's volleyball team in sixth grade, where he began his development into playing volleyball full time.  
"I started my volleyball career in the Sequoia Middle School gym in sixth grade. It was very light and my full transition into the sport didn't start until I was invited to go play club volleyball for a local team in the eighth grade," Eschenberg said.
Mark Magnante, senior,  has played volleyball with Eschenberg since middle school. "Its great, spectacular that he is going to UCLA, to play for them. Why wouldn't (he)? It's Ian!," Magnante said.
Eschenberg has big goals for the Bruins volleyball team. "I plan to contribute my all to the program and help UCLA obtain another NCAA Division 1 national championship," Eschenberg said.
D1 bound – UCLA commit Ian Eschenberg, senior, wins the first home game of his last season as a Panther. Samantha Meyer/Prowler