Clubs bring the community together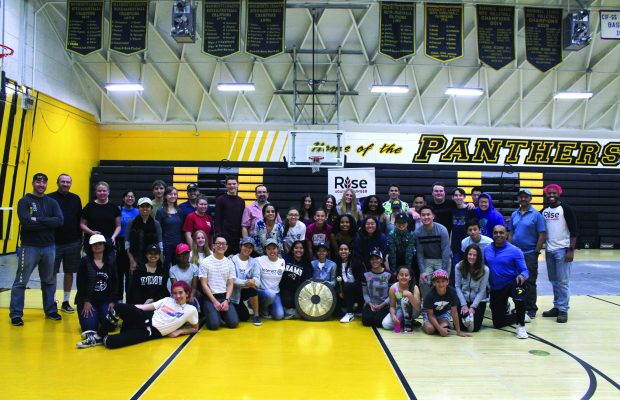 Girl Up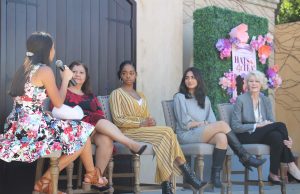 Hats and High Tea
The second annual Hats & High Tea was hosted on March 17 as a forum for empowering women and discussing women's rights. Together, under the Girl Up United Nations Foundation, several Girl Up clubs across different high schools in our area from Westlake to Newbury Park to Camarillo came together to draw awareness towards this social issue. Hats & High Tea was inspired by 17th Century Salons, where prominent women came together to discuss the imminent issues surfacing their respective time era. The event worked towards engaging our community and increasing involvement and activism.
Anushka Pandya, senior and president of the Girl Up club at Adolfo Camarillo High School, outlined the aims of the event. "Our main goal of the event is identifying and discussing gender inequality as well as sending a message towards the importance of activism and empowering women around the globe," Pandya said. "This event also acts as a fundraiser, as our profits are donated towards the parent Girl Up organization."
In achieving these goals, Hats & High Tea incorporated many activities such as a student fashion show, student art exhibitions, international feminist speakers and local woman-owned businesses.
Fashion Show
Lindsey Villano, senior and Girl Up club member, helped with the addition of a fashion show to the event, giving a platform for NPHS student, Melody Hellard, to showcase her collection. "Melody Hellard, a senior from (NPHS), came to the event and put on a fashion show of some  formal wear that she had made. She had beautiful pieces and it was fun to see some of my friends in the show," Villano said.
Art Exhibition
The aim of the art exhibition was to showcase and empower local female artists by giving their work more recognition. "The purpose of the art walk was to provide a platform for female artists to present their work and display their talent. We thought that this event would be the perfect opportunity to elevate girls in our local community. We also featured some information of female artists in history who used art as an outlet to address topics of inequality and feminism," Pandya said.
Guest Speakers
Kamia Ranjbar, senior and president of Girl Up at Oak Park High School, worked on finding prominent feminist speakers to achieve the aims of the event. "Hats and High Tea is an event to give the community an opportunity to discuss issues regarding women both abroad and at home. We wanted to incorporate an initiative of Girl Up within each of our speeches and activities: leadership, advocacy, health and education," Ranjbar said.
Guest speakers at the event included Kaija Hinds, editor and producer of "gimme mo," Kimia Mohebi, a student activist and delegate for the UN and district 44, Catherine Von Burg, CEO of SimpliPhi and Dr. Leticia Ximenez, founder of "Start Again, Not Over."
Vendors
Another aspect of the event was the abundance of female-owned businesses. "At our event we wanted to promoted women-owned businesses so we contacted local businesses that are women-owned and might be interested in selling products at our event. For example, we had Alina Cosmetics (skincare) come as well as Omroze Jewelry," Pandya said.
Key Club
Key Club is involved with a number of activities throughout the school year; the two more recent being the District Convention on April 12-14 in Ontario, California and the monthly District Council meeting, whose location varies depending on its date. Many community service projects are discussed and accomplished around the local community at both events
Among the many clubs on campus, it can be hard to differentiate between each one. However, there is a distinct element to Key Club that sets it apart. "The main goal of Key Club is to make the community a better place and to just promote being a good person overall," Kyle Yasui, senior and co-president of Key Club, said.
The two events Key Club participates in are unique in their form and activities, but overall, have the same basic objective.
District Convention (DCON)
The District Convention is an event in which Key Clubs from across the nation come together to learn more about their club. "Basically (we) do workshops, it's kind of like a thing where you learn more about Key Club, like how do you become more involved, how do you do more community service," Sally Lee, senior and vice president, said. "(It's) where you go to learn more about the club and and what to do, and just bettering yourself."
The people involved in this convention have the largest impact overall. "A big part about Key Club is meeting people from all over, so they stress a lot of connections and being able to meet new people. At DCON you're able to meet so many different people who are like you and share the same passion for leadership and community service." Lee said.
"Key Clubs from all over the district gather to elect the new District Board, attend workshops and meet new leaders from around the country" Carter Kawaguchi, freshman and member of Key Club, said. "The event is an enriching experience for every attendee."
Lee sums up the experience by referencing the people involved. "It's just such a great environment for people to just meet nice people and encourage each other to become a better version of yourself."
Division Council Meeting (DCM)
The Division Council Meeting is a gathering of all the members of all the Key Clubs of the high schools in the division: Newbury Park, Oak Park, Westlake, Agoura, Moorpark, Santa Susana and Thousand Oaks. They come together to discuss projects pertaining to the area. "We all come together and have a meeting where we talk about what's going on in our division, things we can improve on, things that are coming up and we do a fun activity or a service," Yasui said.
The more recent meeting, however, accomplished more than the usual amount for these meetings. "The last (meeting) was actually a special one, where we had our division and two other divisions come and we did games. It was like an Olympics; we did games and stuff so we'd make dog toys for shelters or make care packages for the homeless," Yasui said.
Overall, the Division Council Meetings are a good way to be involved in Key Club and community service. For more information on the meetings' location and dates, contact Key Club @NPkeyclub on Instagram or Twitter.
Interact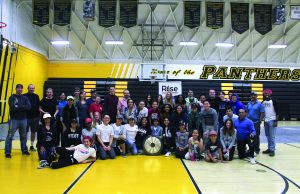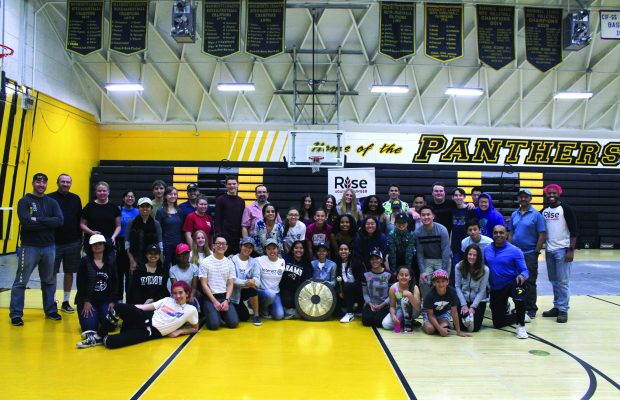 With a goal of ending world hunger by 2030, Interact Club teamed up with the RAH Organization to host the Rise Against Hunger event. Interact has hosted a variety of events in the past, including K9s for Warriors, which raised money to train service dogs, and Dance for Hope, which was a dance event that raised money for the American Cancer Society. However, the Rise Against Hunger event stands out. "I don't think that we've done an event that's as hands-on as this," Tiana Hoang, freshman and a member of Interact, said.
Rise Against Hunger
Interact's Rise Against Hunger was on April 6 in the Newbury Park High School gym from 10 a.m. to 1 p.m. "Rise Against Hunger is a meal packaging event where we put together over 12,000 dehydrated meals that will be shipped to a number of third world countries to help fight malnutrition," Hoang said.
Packaging 12,000 meals is no easy task. "We're working with Rotary, which is the organization that helps fund Interact, and we've raised a lot of money throughout the year to help fund this event," Anna Li, freshman and member of Interact, said. In total, the club raised $3,500 for the sole purpose of funding Rise Against Hunger.
The idea for the event came from an event hosted by Rotary, Interact's parent organization, that co-presidents and twins Anya and Amiya Prasad attended. "We were inspired to do this event when Anya and I had the opportunity to go to the Rotary International Convention in Toronto last summer. While we were there, we came across many amazing organizations, and RAH really stood out to us because of how simple yet impactful the project was," Amiya said.
Overall, the event was a success. "We ended up packing 12,312 meals," Amiya said. "A great thing about it is that in a few months we will be informed about which countries the food we packaged was delivered too. We will actually get to see the impact of our project on others."
Interact Club ended this year with a successful Rise Against Hunger, a goal they had been preparing for the entire year. "It was so much fun to do and so fulfilling," Hoang said. "The members of the actual RAH organization were so friendly and the whole event went smoothly. I can definitely see us doing this again in future years."