Donald Trump acquitted by the Senate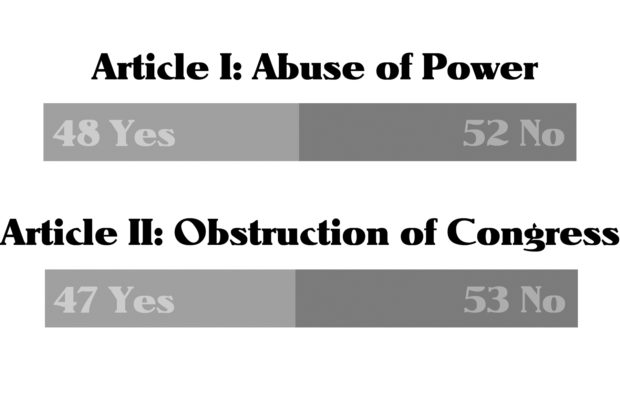 President Donald Trump was acquitted by the Senate on Feb. 5, 2020 on both articles of impeachment. In order for the Senate to remove a sitting president from office, they must vote guilty with a two-thirds majority. The vote was 48 guilty to 52 not guilty on the charge of abuse of power and 47 guilty to 53 to not guilty on the charge of obstruction of Congress. All Democratic senators voted to remove Trump from office. Mitt Romney, R-Utah, became the first senator in US history to vote to remove a president from office who is in the same party, finding Trump guilty of abuse of power, but voting not guilty on the charge of obstruction of Congress. 
Trump was impeached by the House of Representatives on Dec. 19, 2020 on the counts of abuse of power and obstruction of Congress. The charges refer to an alleged quid pro quo between Trump and Ukranian President Volodymyr Zelensky. According to the impeachment articles, Trump withheld military aid from Ukraine until the Ukranian justice department investigated Hunter Biden, the son of presidential candidate and former vice president Joe Biden. 
In Romney's speech explaining his guilty vote, he stated, "As a Senator-juror, I swore an oath, before God, to exercise 'impartial justice.' I am a profoundly religious person. I take an oath before God as enormously consequential. I knew from the outset that being tasked with judging the president, the leader of my own party, would be the most difficult decision I have ever faced. I was not wrong."
Romney continued by giving the Senate the specifics of what he found Trump guilty of: "The grave question the Constitution tasks senators to answer is whether the president committed an act so extreme and egregious that it rises to the level of a 'high crime and misdemeanor.' Yes, he did."
Romney then provided the evidence that he believed mad Trump guilty, "The president asked a foreign government to investigate his political rival. The president withheld vital military funds from that government to press it to do so. The president delayed funds for an American ally at war with Russian invaders. The president's purpose was personal and political. Accordingly, the president is guilty of an appalling abuse of the public trust."
As Trump was not found guilty in the Senate, he will continue serving the rest of his term.