Families of the Law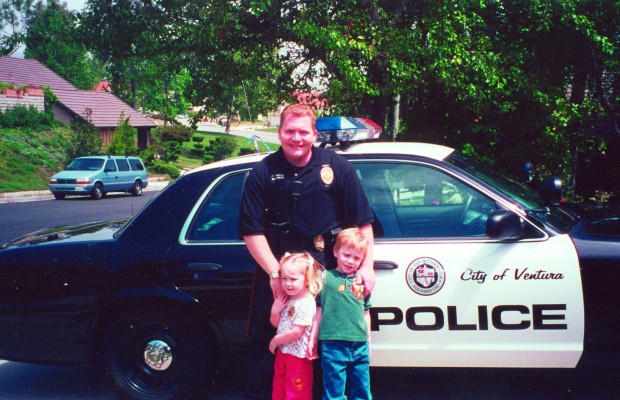 "He promises me he'll be okay, and he never goes back on a promise," Emma Burzinski, freshman said. With an uncle who works as a customs and border control officer, Burzinski is one of many students on campus that deals with the constant uncertainty and stress that comes from having a family member in law enforcement.
In 2013, there were 51,625 assaults on officers and of those, 14,857 police officers were injured (as reported by the National Law Enforcement Officers Memorial Fund). Furthermore, 76 law enforcement officers were killed in line-of-duty incidents nationwide according to a survey by the Federal Bureau of Investigation (FBI); the FBI also determined that there were 263 violent crimes in Ventura County in 2010.
Both on and off-duty, police officers are faced with angst and tension resulting from their workload. The officers are in continuous danger which can cause their families to fear and stress for them.
Despite this stress, Chloe Diestel, a junior whose father is a juvenile detective in the Agoura and Calabasas area, said, "I don't see it as that big of a deal because he doesn't make it that big of a deal. He gets called in at night, but other people have jobs like that too."
A family's entire lifestyle can be affected by having a family member in law enforcement.  Because law enforcement have unpredictable and long hours, there is no good way to determine when the family member will be working. Diestel pointed out that being a law enforcement officer requires being ready to go on the job at all times. "If there is a fire or something, they have to be there, so he's not home as much," Diestel said. "When he is home, he's really tired, so you (really) only have half of him there."
Diestel and her family have adapted to this lifestyle and relate her father's profession to that of "parents who work a job with not-so-flexible hours, because they can be called in at any time of day. A lot of the time we spend together is based around my dad's schedule," Diestel said. "On Christmas every year … you know when you're young you wake up really early? We still wake up really early and everything, but we can't do anything until 10 or 11 or whenever he gets home."
Many families of police officers deal with similar situations. "There are times when he will get called out … and I have to quickly help him get all of his (equipment) so that he can get to work," said Avery Brunk, junior, whose dad is a sergeant at the Ventura County Police Department.

In order to deal with the instability of having a family member in law enforcement, freshman Austin Brunk, Avery's younger brother, said that his dad will occasionally pull his motorcycle over for a break and call to talk to his family.
"It's cool to have them in law enforcement but it's also scary at the same time, because they get in some life or death situations," Austin said.
The Brunk siblings are speaking from personal experience. This past August, the Brunk family's worst nightmare almost came to fruition. Their father, Sergeant Darrick Brunk, was working at the Ventura County Fair on traffic control with several other officers. A man in a red truck who was ignoring the other officers put his car in reverse, hit the car behind him, and then accelerated towards the Sergeant. Sergeant Brunk rolled up over the hood of the car and broke the windshield with his elbow before landing on his feet. Luckily, he was not injured by the accident; he was admitted to the hospital as a precaution, but was released soon after. Moments like these can be very worrying, but for the most part, the Brunk siblings find it very "cool" that their dad is a cop.
When police officers are elevated to the national stage, as they were with the case of Michael Brown in Ferguson and Eric Garner, the families of law enforcement officers can come to disagreements, which can lead to more stress.
Even though her father is in law enforcement, junior Kayla Borkovec does not agree with all of his opinions. "Especially recently with stuff like Ferguson and Michael Brown there's been a lot of disagreements because my dad and I have very different opinions," said Borkovec. When Borkovec first told her father about Ferguson, he couldn't believe it, saying that the officer was "probably completely in the right."
Even in an area as safe as Newbury Park, police officers are still in constant danger. Nevertheless, they put themselves on the line everyday to keep the community safe. Their families put themselves on the line just as much as the officers, living from day to day with the constant worry that one night, their loved one may not make it back home.