From before dawn to after dusk, 18 Hour was a wild ride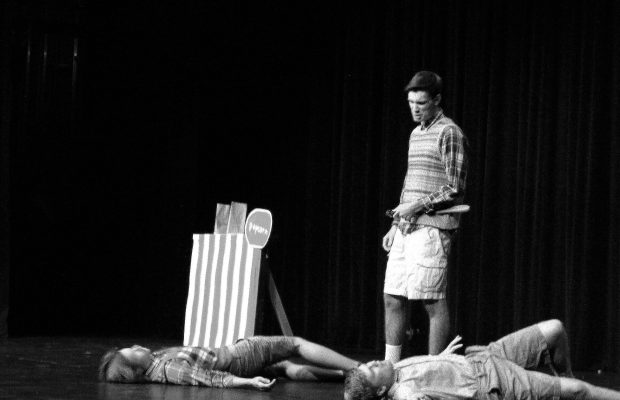 The annual autumn 18 Hour performance took place on Sept. 23 in the Performing Arts Center (PAC). This production is, as assumed, a total of 18 hours; it begins at the dark and early hour of 3 a.m. and ends at about 9 p.m.
In comparison, the 18 Hour performance was "…like the One Acts, but more impressive because you had writers coming in at 3 a.m. in order to just make something happen," Mikey Moss, senior, said. In general, the idea of 18 Hour is to allow writers to explore the prompt given and create a short that will later be casted, directed, produced and ran through until before 8 p.m. when the real performance begins.
Julia Berman, senior, was the event coordinator for this 18 Hour production. Having done every 18 Hour performance since her freshman year, she has been a part of a whopping seven different 18 Hours up until this point. Her job as event coordinator was to oversee the entire makeup of the show and to make sure that things ran "picture perfect," as she put it. "I'm just kind of like the mom for today," Berman said.
Normally a technician, this was Berman's first time being an event coordinator for the show.  "It's really stressful… I've been here for a lot of hours, and I haven't had a break today, but that's okay," Berman said. Quite antsy, yet overwhelmingly excited, she said that though her job was utterly stressful, it was "really fun and really worthwhile."
Moss was one of the many actors in the 18 Hour performance. He played a character named Sam, who, as he called him, was a "murderous and flamboyant gay." In the skit, "Bonjour," his character ultimately killed three different people: Beth, played by Caitlin Henderson, senior; his boyfriend, played by Riley Grief, senior; and Beth's boyfriend, whom she had been going strong with for a solid month, played by Hunter Carter, junior.
Going all the way back, Moss has been acting since he was young.. "I've been doing stuff since elementary school, if we're going back that far," Moss said. "If you consider Odyssey of the Mind acting, considering we made our own skits and stuff, then, since fourth grade."
This was Moss' first experience being in an 18 Hour performance, and he plans on being in the spring show as well. However, next time, he wants to be a writer rather than an actor.
Most know all about the actors, the writers, the directors: the people that are seen, on stage, and get most credit for the performance as a whole. However, it seems that, readily, the people who the show rests its entire existence on, the people who either dump the audience into total darkness or shine the spotlight on the star actors; the people who keep the show alive, playing the sounds that would otherwise leave the performance empty and dull; the people who, stereotypically, have to refrain from dropping sandbags on people: the technicians.
Victoria McAlister, senior, worked as one of the heads of sound for the autumn 18 Hour. She joined the technical theatre team as a sophomore, and plans on working the spring 18 Hour in the same department: sound. However, unlike the autumn 18 Hour, the spring production is a time for the younger, new, freshly made techies to put all the skills that they have learned to the test. "I feel like next 18 Hour is going to be even better because more people, especially the newer people, are going to have a better sense of how technical theatre is run," McAlister said.
With this being the second to last 18 Hour performance for Berman and McAlister, the sadness of leaving is already settling in. "It's going to be really difficult [to leave] because of the friendships that I've made here and the commitment that I have to this department… it helped me figure out what I'm going to do in my life," McAlister said.
Berman, similar to McAlister, has grown to love the PAC like nothing else. She already knows how much she will miss everything about the life that she has built here, but she plans on going to college for the like. "…hopefully, [college] will be a similar experience, but nothing will be like my home, Newbury," Berman said.