Club Rush makes a comeback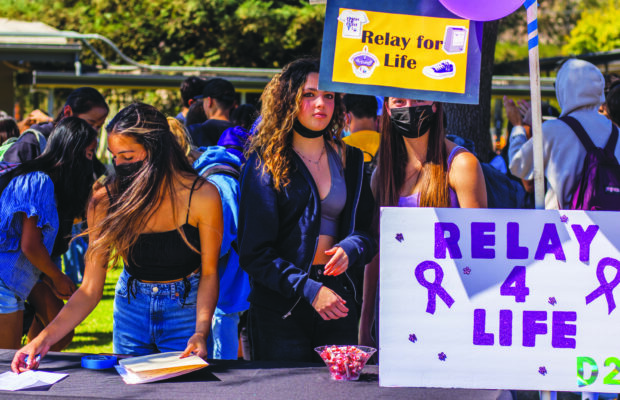 The quad bursts with energy as students advocate for their clubs during the return of Club Rush. After being deprived of this event last year, clubs were eager to finally be able to participate in this annual event and help guide students to join. On Friday, Oct. 1, students had the opportunity to explore their interests in all of the clubs uniquely offered here on campus.
Many clubs had a particularly difficult previous year as they experienced low numbers of participants due to the pandemic. Regardless of the bumps in the road, Relay For Life, a club that helps raise money for cancer patients through American Cancer Society, persevered. Kate Corlew, senior, is the vice president of Relay for Life. "It's really great to have that opportunity for more people to come in and join because I know last year, it was really hard to advertise at the school," Corlew said.
Club heads were excited to finally advertise to people who may have not known about the various groups. In past years, a strong tactic used by clubs to help garner interest was bringing baked goods and other food. Due to COVID-19, food items needed to be individually wrapped and given out instead of sold. As a result, clubs persuaded people to join using balloons, eye-catching posters, and candy.
Girl Up, a club that advocates for feminism by raising money for the US foundation, was one of many booths appealed to students. Eliana Morris, senior and vice president of Girl Up, was especially excited to see underclassmen joining. "I think with COVID, I think a lot of underclassmen aren't really familiar with clubs and like a structure of them, so we're hoping to have an even greater turnout for underclassmen," Morris said.
This was the underclassmen's first Club Rush experience. Jillian Abbott Gonzalez, sophomore, was excited to finally be able to participate in the event. "Everyone's around and just learning about different clubs is awesome," Gonzalez said.
Even though they were aware that Club Rush had to operate differently than past years, upperclassmen still had a positive experience. Nicolas Bronaugh, senior, summed up this sentiment. "I'm really glad to see everybody here still, you know, doing clubs. There was a lot more people here than I originally expected, so that's good." Bronaugh said.