Boys swim succeeds against the current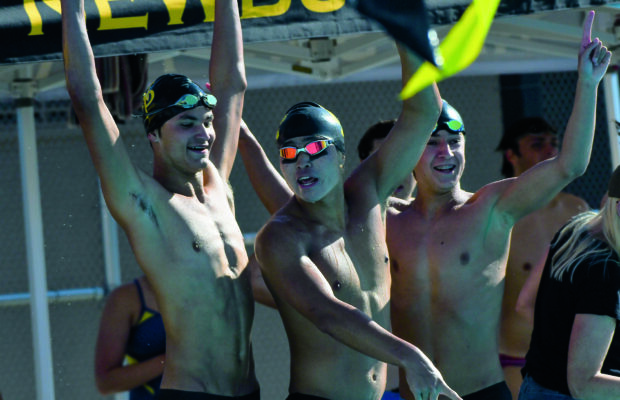 When Wonjin Ko, senior, entered his sophomore year, he had one time in mind. One minute and 31.02 seconds, the record time for the 200 yard freestyle relay race at NPHS. Losing his opportunity to break the 200 yard relay record in last spring, Ko made a comeback with his teammates in his last season by breaking two records within two weeks.
Ko, along with Justin Copeland, junior, Cameron Habib and Grayson Ing, sophomores, completed the 200 yard freestyle relay in one minute and 30.17 seconds, beating the previous record by less than one second on April 30 during a home meet against Agoura.
It had been a long-term goal for Ko and his teammates to break this record that was set in 2016. "I feel like we have this connection and we were able to, you know, realize how important it was for us to break that record," Ko said. Although not unexpected, this feat was all the more impressive due to the fact that the swim team had not been practicing for a year.
The event requires four swimmers to each swim 50 yards one after the other, so collaboration and careful coordination are key. Watching a race that was fighting down to the milliseconds, Emma Lythgoe, the boys swim coach, and the rest of the time could not hold their excitement when they saw the timer stop. "We're just watching the clock and the minute they realized it was just pure excitement. I can just feel that whole energy on deck," Lythgoe said. "It was a big redemption moment."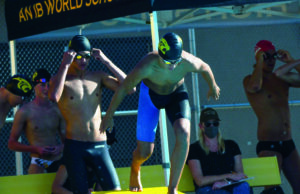 Copeland was the last one to swim his 50 yards and described it as a nerve-wracking experience. "If you mess up, you're not really gonna get the times that you want," Copeland said. However, when he hit the wall, seeing the joy from the deck and his teammates made the pressure worth it. "Everyone came over and started congratulating us as we went over to cool down… It was great."
The swim team did not lose their momentum there. After qualifying for CIF, Ko managed to pull a 21.59 second 50 yard freestyle on May 14 during a home meet against Calabasas, passing the 1977 record by 0.01 seconds. "At first, I couldn't believe it because I was not expecting to break [that] record," Ko said.
The biggest challenge the boys swim team faced was their struggle with confidence after the pandemic hit. "Especially with mostly kids being out of the water, I feel like [COVID-19] made a lot of them just kind of doubt their abilities and … their belief in each other."
Although faced with the same challenges as many other sports teams during the pandemic, the boys swim team continued their pursuit of their long-term goals and successfully made their comeback season. "They've been able to push through, persevere and just kind of
prove to themselves that their ability way exceeds any previous low expectation that they have," Lythgoe said.
Ko and the rest of his teammates are savoring their successes and looking toward swimming faster and breaking more records in the future. "Oh my God. I mean, that was possibly the greatest moment of my high school career," Ko said.