"Break Point" humanizes professional tennis players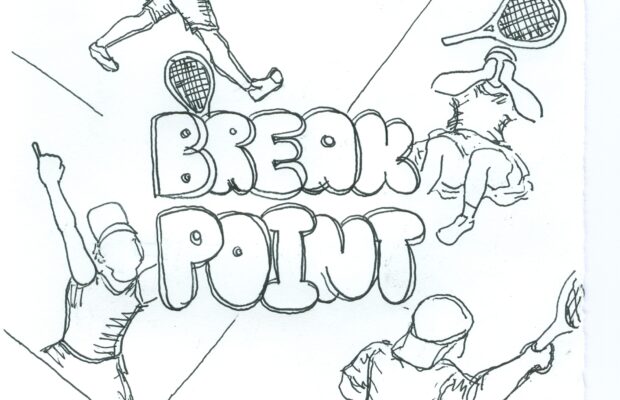 As a tennis player, the new Netflix series, "Break Point" provided a pleasant surprise, allowing me to personally connect with the story in the show. The show thoroughly covered the struggles of professional players' lives as they venture through the grueling journey that is tennis.
While only a mere five episodes, "Break Point" creates a personal relationship with various up and coming tennis stars. The show introduces Taylor Fritz, a 25 year old American men's professional, Ons Jabeur, the first Tunisian woman to win a Banque Nationale de Paris (BNP) Pariba Open, Maria Sakkari, Greek women's professional, and Nick Kygrios, Australian star and tennis "bad boy," as well as more astounding players. An intimate relationship is created between the viewer and the player through reality TV interviews, close-up shots and real match footage.
The show covers two different grand slams, the Australian Open in Jan. of 2022 and French Open in May of 2022, as well as two BNP Paribas Open Tournaments, Indian Wells and Madrid.
The show does an excellent job of showcasing the difficulties of playing tennis. Tennis is a challenging sport for one main reason: it is the most independent professional sport. During a tennis match, the outcome is entirely dependent on the player themselves. A player gets no time with their coach during the match. As a result, tennis becomes one of the most challenging mental games, especially at such a high level. "Break Point" presents the vulnerable part of the players who appear to the public as flawless, and emphasizes the mental battles that even the greatest players of all time must deal with. The show humanizes players that are deemed godly and provides comfort to all athletes that struggle with living up to their full potential.
The first episode focuses on Nick Kygrios, one of the most talented tennis players in the game, and his journey struggling to live up to his potential and dealing with pressure. At 19 years old, Kygrios defeated Rafeal Nadal, one of tennis's most dominant players. From there, Kygrios became the teenager that beat Nadal; going from nobody to people camping outside his house. This pressure became intense for Kyrgios, especially as a kid, and he shares his journey dealing with his mental health issues. Similarly, the other episodes single out players and thoroughly cover their own individual journeys.
Each episode perfectly encapsulates the anxiety-filled points and matches that make tennis to be the exciting, delicate yet beautiful game it is. The second season comes out in June following the French Open, continuing to carefully cover the most talented athletes and the beginning of their seasons.