Caitlin Meaney loved fish tacos and life
Caitlin Meaney was known for her red hair and her beautiful soul, always keeping her head held high no matter what challenges came her way. After her five years of battle against osteosarcoma, she peacefully passed away on April 24 in Cedars Sinai Medical Center. Meaney touched the hearts of many and her legacy will leave a lasting impact on the community.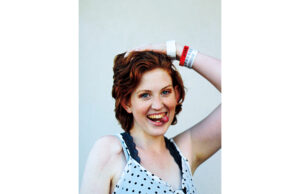 As a student
During her years at NPHS, Meaney was beloved by all of her teachers. Even though she was in and out of the hospital because of her treatment, Meaney was able to form inseparable bonds with those on campus. 
Whether she was at school, home or in a hospital bed, Meaney was always an enthusiastic learner. Lucia Lemieux, an English teacher, taught Meaney as a sophomore. "I just thought she was adorable, really. She just had this great smile and pretty red hair, and she was very friendly to everyone," Lemieux said.
Lemieux recognized Meaney as a gifted and hardworking writer, and encouraged her to submit her work in a writing contest for high schoolers who had battled cancer. "She had won, and she was so excited and she told me how healing it was for her to do that," Lemieux said.
During her freshman year, Meaney worked with Richard Bradley, math teacher, at home and at the hospital to keep up with algebra. "I just remember her attitude. She was positive, she was upbeat and she was smiling, which immediately made an impression on me that this kid is special," Bradley said.
Bradley admired Meaney's bravery when it came to opening up about her cancer. "She had her entire right arm rebuilt, so she had a scar that ran from her shoulder all the way down from the inside of her elbow, yet she always wore tank tops," Bradley said. "She never ran from it."
Along with Lemieux, and Lynn Baum, a health teacher, Bradley nominated Meaney for the Student of Character Award. During the night of the award, Bradley gave a speech for Meaney's nomination. "I started my talk with, 'Being a scrawny little freshman is tough enough; now imagine being a freshman being told you have bone cancer,'" Bradley said. "There wasn't a dry eye in that cafeteria. Actually, there were two, and the two were Caitlin's because she was smiling."
Michelle Saremi, an English teacher, taught Meaney during her junior year while she was undergoing treatment. Despite the circumstances, Saremi feels that Meaney never let her cancer get in the way of her academics. "I feel like a lot of people want to be the victim, and here's a kid that just wants to be a regular student, and not feel like anyone should give her an advantage just because she is battling cancer," Saremi said.
The resilience and desire to learn that Meaney showed left a lasting impression on those who knew her. "She's the toughest person I've ever met in my life," Bradley said.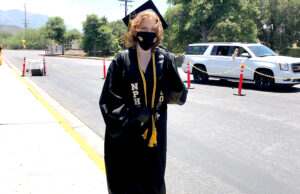 As an explorer
Meaney always had a passion for medicine and dreamed of becoming a nurse someday. In 2019, she joined the Ventura County Medical Explorers Post 911 program as the sergeant of arms and was one of the founding class members. The Medical Explorers Post 911 is a program that helps teenagers to explore their passions in different medical careers.
Evan Hess, the program advisor, was inspired by the way Meaney presented herself as a leader and educator. "I changed as an advisor because of interactions I had with her. She was a shining example of everything that we strive to accomplish in the program in one individual," Hess said.
Paige Householder, senior, was a fellow Explorer and friend to Meaney. They shared many memories together and became inseparable. "We would always make sure we had enough time to blast music in the hospital's parking lot before meetings and scream all of the lyrics," Householder said. "I'm sure a lot of the hospital visitors and employees were not too thrilled about the volume we had the speakers at, but it was so worth it because those nights were some of the best nights of my life."
While in the program, Meaney won several awards, including the national Exploring Leadership Award. "Caitlin was the very first to volunteer and first to show up for the activity, and the very last one to leave at the end of the day," Hess said. 
Aminah Ghanem, an NPHS alumna, met Meaney at the Explorer training academy. Ghanem was inspired by Meaney's strength and charisma. "As teenagers, most of us are unsure of who we are, but Caitlin was always so confident and sure of herself," Ghanem said. "She set an example to us all and taught me the importance of confidence and assertion in even the most intimidating situations." 
Meaney's mission was to inspire others to be kind. "She reminded me constantly to love myself for who I am and embrace myself for who I am. If Caitlin can love everything about her, I can love everything about myself," Hess said.
Cancer journey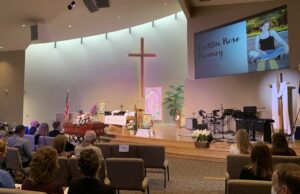 After losing so much of the normal teen experience to her cancer treatment, Meaney took advantage of all of the opportunities she could get. "Once she got to go back, she was like, 'Bring it all on, I want to do everything.'" Jessica Meaney, Caitlin's mother, said. 
Despite being so young while dealing with cancer, Caitlin was involved with all the decisions of her treatment. "She became good friends with her nurses and her doctors. She could sit there and discuss treatment and everything like an adult even when she was only 15, 16 years old," Gage Meaney, Caitlin's brother, said. "She really took ownership in her treatment," Jessica agreed.
From the start of her diagnosis, the Meaney family worked as a team to battle Caitlin's cancer. "It was never like we were doing this for her, or we were doing anything or hiding information from her, she was involved in everything from day one," Rob Meaney, Caitlin's father said. 
Even through her treatment, Caitlin constantly seemed to keep her hopes high. Rob was always impressed with her positive attitude. "She never gave up, she never complained really and she never sat around feeling sorry for herself," Rob said.
Caitlin spent every living moment she had leaving her mark on the world. Although she was young, she possessed a wisdom that impacted so many people. Bradley shared some of her words at her funeral service on May 15. "'There's going to be very painful moments in your life that will change your entire world in a matter of minutes. These moments will change you. Let them make you stronger, smarter, kinder. But don't you go and become someone you're not. Cry. Scream if you have to. Then you straighten out that crown and keep on moving.'"