Club volleyball set over the nets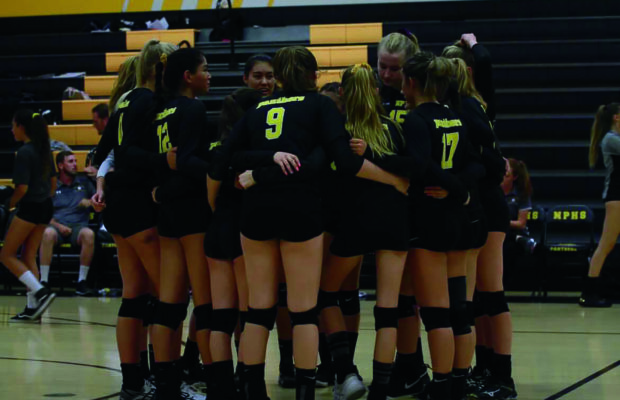 Hitting over nets and serving across court floors, many club volleyball players across Newbury Park are returning to the courts. Despite challenges, these girls have made accommodations to practice so they can continue to perform their best.
Practicing during the pandemic creates many precautions to keep all of the players safe. Brooke MacFayden, junior, has been practicing with Reef Volleyball for this season. "We practice at the Newbury Park Adventist Academy, and there's only allowed to be three teams in the gym at once," MacFayden said. "Each on a separate court, and we get our temperature taken before we go in and we're required to wear masks the whole time. We have to constantly wash our hands."
Emma Schuetz, junior, has been playing since middle school and is currently a proud player for Reef Volleyball Club. Although it is significantly harder for sports teams to compete against others during this time, many teams have made adaptations to make tournaments possible. "We have played in tournaments and have one scheduled for two weeks from now…I understand all of the restrictions are in place but they do make it really difficult for our team to communicate on the court, create bonds with our back row and setters, and keep up with the amount of oxygen we need at that fast of a pace," Schuetz said.
Another Reef's player, Erica Winerman, junior, shares a similar feeling as Schuetz while competing on the courts. "Our pool lineups are different and they just take a lot more precautions like temperature checks," Winerman said. "But they're still fun and it feels the same as a regular tournament. It's just a lot more empty."
Although the gameplay itself hasn't changed as much, the relationships and connections have changed drastically. "We've lost a few teammates because their parents don't allow them to play due to COVID or they just can't come to every practice due to their personal restrictions," Schuetz said.
Even though many of these girls struggled in the beginning, their love for volleyball will not make them give up on pursuing their passion. "In the beginning, I think I didn't play volleyball for four months, and then I went back. I felt like I had never played before. It was kind of a struggle to get back into it, but I think I'm getting there now," MacFayden said.