Dance team leaps into competition season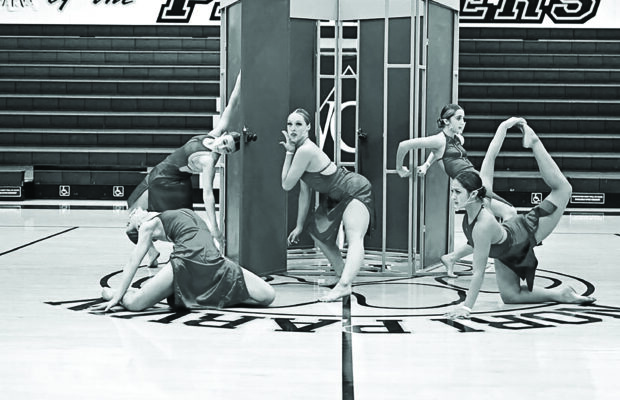 For the first time this school year, the NPHS dance team took part in their first two competitions on Jan. 22 and Jan. 29. Both under the West Coast Elite organization, the dance team went to San Diego on Jan. 22 to compete at Torrey Pines High School, and also hosted their own regionals at NPHS on Jan. 29.
For Rowan Patterson, freshman, the San Diego competition was her first as a dance team member. "San Diego is by far the hardest regional competition of the year. The teams that were there were very tough to compete against. Our team ended up doing pretty decent," Patterson said. "One of the solos ended up getting sixth overall out of all the solos, of which there was 130. Our hip hop dance placed second, [and] our pom routine placed fourth."
After coaching the dance team for 15 years, Carolan Cameo was finally able to host NPHS's first dance competition. "Westlake High School has hosted competitions because they have a larger gym. But last year and this year they have not hosted a competition which allowed us the ability to host at Newbury," Cameo said. " We were going to do it last year but with COVID everything had to change so it was such a great experience to finally have it on our own campus."
Within the people who dance in the area, there are three networks that they compete in: United Spirit Association (USA), the California Dance Team Association (CADTA), and the West Coast Elite (WCE), which was hosted at NPHS. "[WCE's] judges are professional dancers in the industry, and a lot of the harder schools go to that competition. I think one of the draws is if you win grand champs, which is kind of your top four teams scores," Cameo said.
Hannah Lynn, senior, believes hosting the competition at NPHS made a difference for the team."Being at home definitely made the team feel more united and excited for the competition, [and] was very exciting since NP has never hosted a competition before," Lynn said.
Overall, across both competitions, NPHS took home several notable titles. "Our team took first in the large jazz category and the elite contemporary category. We got second in the pom, large hip hop and small jazz categories," Lynn said.
There were some students who also took home individual awards, such as Mikaella Lopez, freshman. Lopez received first place in freshman solos, as well as receiving sixth place overall dancer of the year at San Diego. Lynn also received first place overall for senior solos, and was the second place overall dancer of the year at the competition hosted at NPHS.
"It [was] definitely nerve wracking at first. The anticipation when you're about to go on stage is crazy, but once the music turns on, something just makes it all work and you completely forget about being nervous and it's just a great time. Walking off stage after a good performance is the best feeling ever," Patterson said.